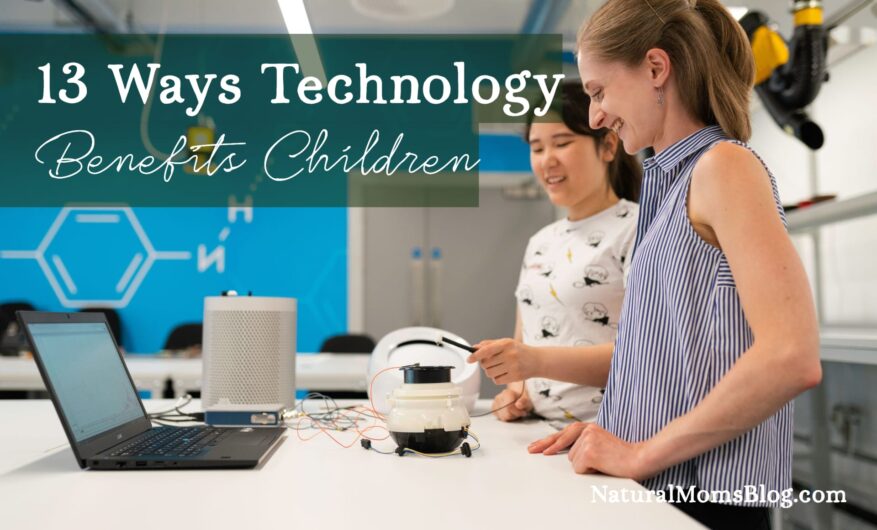 As technology rapidly advances, its impact on our lives becomes more evident. This is especially true for kids who are growing up in a world where technological devices and applications are second nature. While there are some who worry about the impact of technology on kids' development, the truth is that if used correctly, technology can actually be a great benefit to children. In this blog post, we will discuss 13 ways that technology can benefit your kids!
1. Better Education
Technology can make a huge difference in the classroom. By using educational applications and programs, kids can learn more effectively than ever before. From online textbooks to virtual classrooms, technology is making it easier for children to stay ahead of the curve and get an excellent education.
2. Improved Communication
With social media platforms such as Facebook, Twitter, Instagram, etc., kids are able to communicate with their friends and family around the world like never before. They can share thoughts and ideas no matter how far away they may be!
3. Enhanced Creativity
Technology allows kids to explore new creative outlets which they may not have access to otherwise. For example, coding apps allow kids to create imaginative computer games or websites while art apps like Procreate let them express themselves through digital art.
4. More Connected Kids
Kids can now stay connected with their friends and family no matter where they are. With smartphones, kids can easily video call or text their loved ones when they're away from home. This is especially helpful for those who have parents who travel often for work or military deployment.
5. Improved Access to Information
Technology has made information much more accessible than ever before. Kids can now use the internet to find answers to questions they may not be able to get elsewhere. This allows them to explore topics of interest outside of the classroom and develop a better understanding of things that matter most to them.
6. Improved Mental Health
Technology can also be used to help kids with mental health issues. There are a variety of apps and websites that can provide resources for kids who are struggling with depression, anxiety, or other mental health issues.
7. More Fun Activities
Online games and interactive activities are great ways for kids to keep themselves entertained and engaged when they're not in school. From virtual reality experiences to online escape rooms, technology makes it easy for them to find something fun to do!
8. Increased Safety
Thanks to GPS tracking capabilities and monitoring applications, parents can now have peace of mind knowing their kids are safe wherever they go. With these tools, parents can easily stay informed about their child's location and activities. Here are some ideas on how to best use tracking tools for kids.
9. Easier Access to Resources
Technology makes it easier for kids to access resources they need to succeed. For example, many libraries now offer free e-books that can be accessed from any device with an internet connection. This means kids don't have to worry about getting library cards or finding transportation in order to get the materials they need.
10. Enhanced Self-Development
Technology can help kids become better versions of themselves. With applications like Duolingo, kids can learn new languages, while mindfulness apps can help them develop better emotional regulation skills. Technology allows kids to explore their interests and discover new passions – something that was impossible just a few decades ago!
11. Improved Productivity
Thanks to technology, kids can now stay productive no matter where they are. Whether it's taking notes on their laptop or getting work done on their mobile device, technology allows them to be more efficient and get more done in less time.
12. Reduced Stress Levels
From tracking systems that remind kids of upcoming events to apps that help with organization and planning, technology can make life a lot less stressful for kids. They are able to manage their tasks better and stay focused so they don't become overwhelmed.
13. More Engaging Learning Experiences
Technology is making learning fun again! With interactive lessons, games, and activities, kids are able to engage more deeply with the material they're learning. They can explore topics in more depth, ask questions, and interact with their peers – all without leaving the comfort of their own home.
When it comes to technology, there's no doubt that it brings a lot of benefits to kids. From improved access to resources to enhanced self-development, tech has revolutionized the way our children learn and grow up. With all these advantages, it's clear that technology is only going to continue making life better for young people in the future!
---
If you liked this post, submit your email address below to get new posts by email:
Disclaimer:
This website is not a substitute for consultation with your health care giver. You should not use any of the exercises or treatments mentioned in this website, without clearance from your physician or health care provider.
Disclosure:
When I mention products, you must assume I will receive compensation for doing so. However, I only recommend products and services I myself use or believe in and would recommend to my own sisters and mother. Nevertheless, you should perform your own due diligence before purchasing a product or service mentioned in this website.