Because I can only sleep on my side, every so often I get a sore shoulder. But one day last week, my sore shoulder got worse. Much worse.
It got so bad that I couldn't take off a T-shirt by myself. I couldn't lift anything with my left hand. And I woke up every hour at night, looking for a comfortable, pain-free position in which to sleep.
As has been my habit lately, I turned to my handy, dandy essential oil book, The Complete Book of Essential Oils and Aromatherapy by Valerie Ann Worwood.
Lo and behold, Worwood had a remedy for "frozen shoulder" — I'm not even sure that's exactly what I had, but based on what I read online, it sounds pretty close. I didn't have the exact essential oils in Worwood's recipe, but she offers substitutes, so I ended up making this massage oil: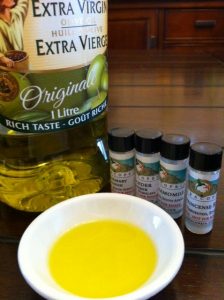 2 teaspoons extra-virgin olive oil (straight from my kitchen)
3 drops lavender essential oil
3 drops rosemary essential oil
3 drops chamomile essential oil
3 drops frankincense essential oil
The frankincense is another "adaption" by me. I added it, because I had a sample from Floracopeia and I'm always looking for opportunities to use it.
But more importantly, because the Floracopeia website describes its therapeutic like this:
In clinical practice, its anti-inflammatory powers make frankincense rivae a useful adjunct treatment of rheumatic and arthritic conditions.
Actually, that is only one of the many "powers" of frankincense essential oil. With over 200 molecular compounds (yup, 200, you read that right!), it's also good for immune system defense and support, speeding the body's natural healing, antibiotic, antifungal, antiviral, and antiseptic effects, skin regeneration and growth, and more!
So anyway, I don't think I had arthritis, lol, but I figure if an essential oil is good for that, it must help with my frozen shoulder, too, right?
The Procedure
I followed Worwood's recommended procedure: First, I applied a heat pack on my shoulders. I used the Magic Bag Neck To Back Hot/Cold Pack.
It was a splurge, but because I could barely move my left arm and shoulder, I figured it was worth it.
I already had a warm pack, but found myself tensing my shoulder even more to balance it and keep it from slipping off. Definitely not good. The Magic Bag, however, is shaped perfectly so it rests on your shoulders and covers a bit of your chest and upper back as well.
So anyway, after 15 minutes or so of using the Magic Bag, I would take a bit of the massage oil and massage it on my shoulder, neck, and upper arm. At one point, I asked hubby to massage it down the left side of my back, because the pain was radiating downwards there.
And then I put the Magic Bag back on for as long as possible, until it got cold. Or I'd pop it in the microwave for 2 minutes and just keep it on my shoulders. I did this 2-3 times a day for two days.
I also did these exercises for frozen shoulder (the music is annoying, but the exercises help):

After 3 days of heat, massage oil, and exercise, my left shoulder was completely pain free!
I'm really happy with the results I got. Especially because I found out our medical coverage for chiropractic required us to pay the first $375 of treatments first, before the insurance would begin to cover the succeeding ones.
With my homemade remedy, I spent maybe $40, most of it on the shoulder-shaped heat pack.
Have you ever had frozen shoulder or something similar before? What did you do to treat it?
Lexi
---
The statements made in this post have not been evaluated by the Food & Drug Administration. The products mentioned are not intended to diagnose, cure or prevent any disease. If a condition persists, please contact your physician or health care provider. The information provided by this blog is not a substitute for a face-to-face consultation with a health care provider, and should not be construed as individual medical advice.
---
If you liked this post, submit your email address below to get new posts by email:
Disclaimer:
This website is not a substitute for consultation with your health care giver. You should not use any of the exercises or treatments mentioned in this website, without clearance from your physician or health care provider.
Disclosure:
When I mention products, you must assume I will receive compensation for doing so. However, I only recommend products and services I myself use or believe in and would recommend to my own sisters and mother. Nevertheless, you should perform your own due diligence before purchasing a product or service mentioned in this website.