I rarely buy a product at first sight, but I did when I saw the Herb Fairies Book Club from LearningHerbs.
We use herbs and other plant-based remedies in our home, and it's important for me that my children continue to use them when they grow up.
What better way to help them learn about the powers of plants than through stories? That's why I subscribed to the Herb Fairies Book Club as soon as I learned about it. It's the perfect resource for homeschoolers and anyone interested in learning more about herbs and nature.
In this post, I'm going to show you what it looks like "inside" the club.
Herb Fairies is called a "book club," but it's really a multi-media club, as you will see below. This is what the Herb Fairies Dashboard looks like: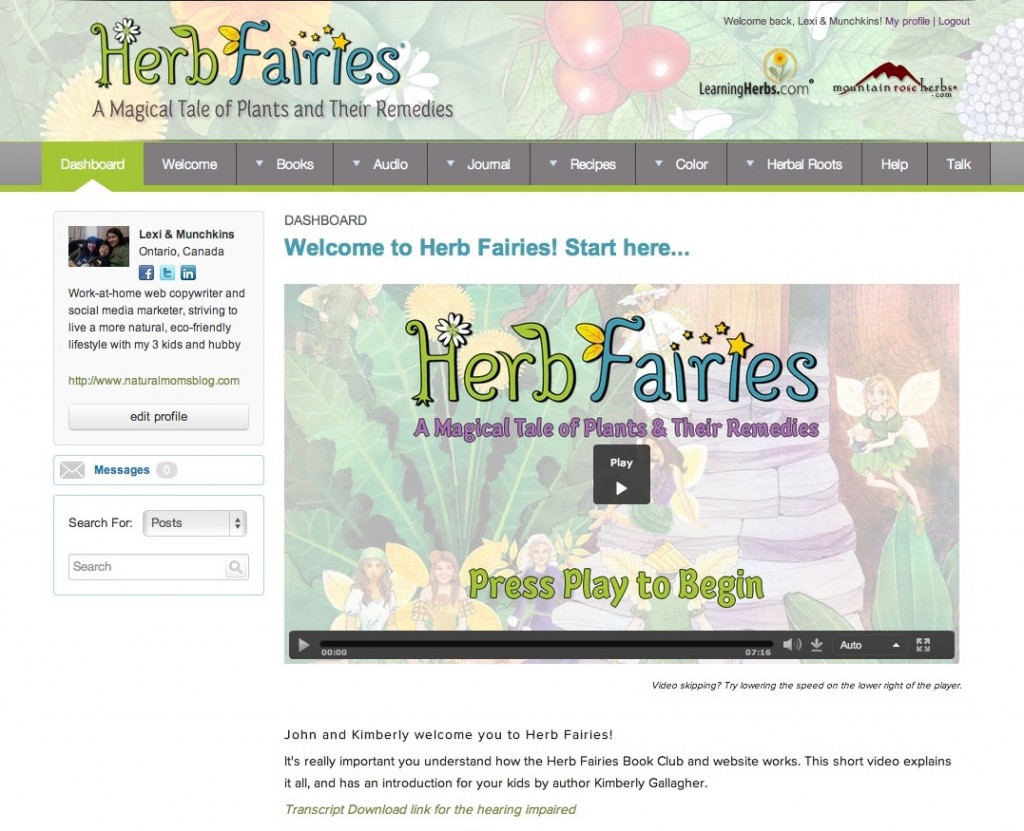 In a rush? Click here to get the full story on Herb Fairies Book Club
You can access the dashboard any time and from any computer with an Internet connection. From the online dashboard, you get access to all the Herb Fairies content.
Herb Fairies Book Formats
When you join, you immediately get access to two chapter books, and then one book a month for the next 11 months, for a total of 13 books. Each book is about a specific herb, and the timing of each book's release coincides with when the herb is in season in North America. You also have the option of getting all the books all at once, but as previous Herb Fairies subscribers have observed, the monthly option is better.
Each book comes in various formats: PDF, mobi (for Kindle), and epub (for iBooks). This means you can read the book on various devices: iPad, desktop computer, Kindle, etc.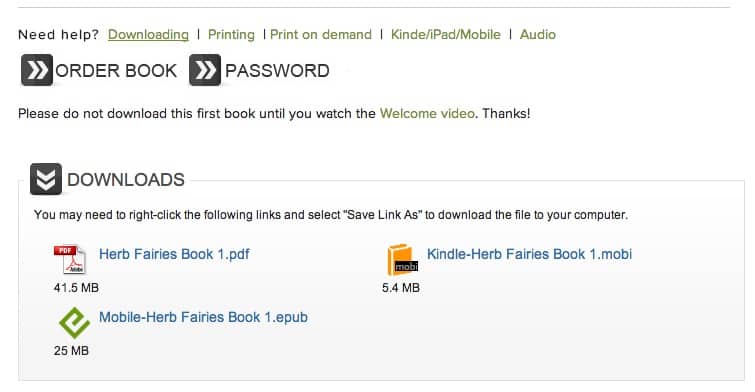 You can also order a printed version of each book through CreateSpace's print-on-demand (POD) service. Only Herb Fairies subscribers are able to order prints of the Herb Fairies books. This will cost you extra, however. The cost is $7.99 — the actual cost from CreateSpace, which means LearningHerbs does not profit from POD books.
If you and your kids are the type who are more comfortable reading from a physical book, this is a good option. However, if cost if an issue, then it may be less expensive to print the PDF on your own printer (depending on how much your ink costs).
Now comes the multi-media part.
Herb Fairies Audio
Each book also comes in mp3 audio format. You can download each audiobook to listen to anywhere. Burn it into a disc and listen in the car (each one is about one hour long, great for road trips). You can also use this to help your little ones learn how to read. I've set it up, so that the book and audio are in my iPad. That way, my kids can listen and read along at the same time. I love this for when I'm feeling too tired to read aloud to them.
Supplemental Materials
There are a number of extra materials that come with each book. For example, there's the journal: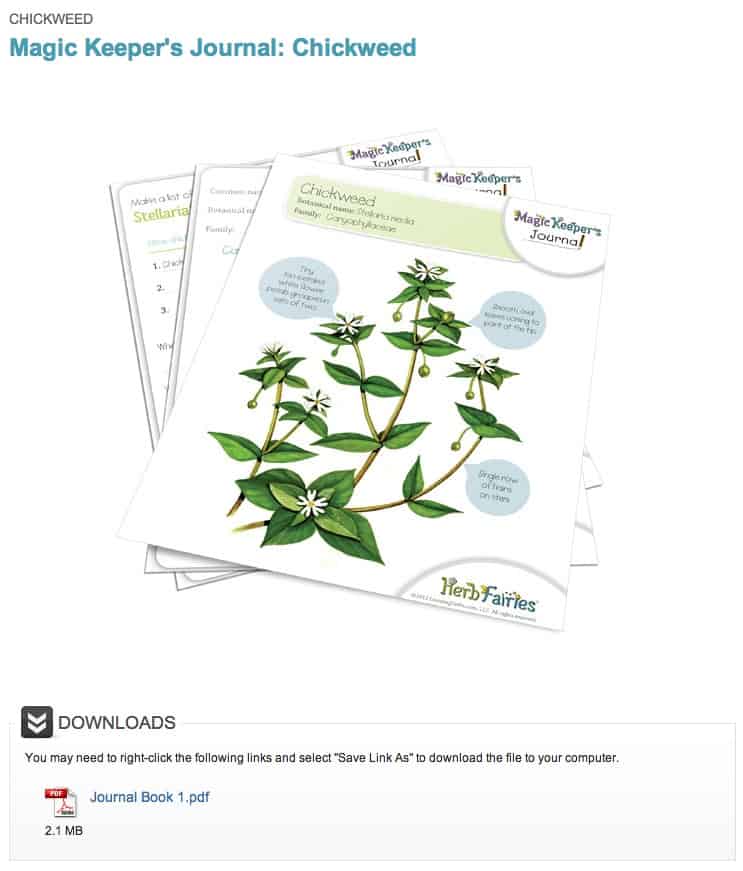 Journals have a detailed illustration of the herb, with identifying features, so you and your children will be able to recognize the plant when you see it. This is followed by worksheets to help your children remember and integrate what they learned from the book.
Next, you'll find Recipe Cards for each book. These are in PDF, which you can print if you like. For example, for Book One, the recipe cards include: Chickweed Apple Cider Vinegar, Chickweed Grilled Cheese Sandwiches, Chickweed Pesto (looking forward to making this), Chickweed Spread, Chickweed Tincture, and Steamed Chickweed.
I will never see these plants as weeds in my backyard again!
The list goes on: next up are coloring books and a poster for each book. I'm not big on coloring books, so I probably won't be printing those. The posters, however, are a nice visual reminder of each herb and the main character of each book.
FINALLY — whew — each book has an accompanying ezine. The ezine for Book 1 is 20 pages long. Although it was clearly made in 2009, it's still relevant and perfectly harmonizes with the contents of the Herb Fairies Books. You will find:
more information on the featured herb, including photos
a calendar with an entire month's worth of activities involving the herb
herb word search
stories, songs, and poems about the herb
more recipes, including salves and other herbal remedies
coloring page
crafts
maze
resources to learn more
Aside from all the content, also included in your Herb Fairies Book Club membership is access to a community forum of other members. Here you can exchange notes, ask each other questions (health questions not allowed), and interact with like-minded people from all over the world. Yup, so far I've seen members from the US and Germany. One child even started a kids-only thread 😀
For those of you who are worried about the tech involved in consuming the Herb Fairies materials, take heart. The site has a very detailed Help section, with detailed, step-by-step instructions for everything from downloading files, to viewing them on all types of mobile devices, to listening to the mp3. And if you don't find the help you need, you can contact LearningHerbs support (as well, you can get support from other members in the forum).
Because of the time sensitiveness of the Herb Fairies Book Club, it's only open to new members until Friday, April 12. According to LearningHerbs, "Soon as the clock strikes midnight Saturday, April 13th, the Herb Fairies Book Club will go away til next year."
That's right, if you don't join now, you'll have to wait an entire year until you can do so.
The site doesn't say which time zone they'll be following, so if you're reading this and are interested, go here right now and sign up for your membership. You can pay for the entire year up front, or choose a three-pay option.
Click here to join Herb Fairies Book Club.
PS: As the infomercials say, "Wait, there's more!" LOL! I forgot to mention a bonus you get with the Herb Fairies Book Club, "Herbal Remedies for Children During the Cold & Flu Season":
I've been trying to BUY this book for months, but couldn't find a way to do so. Now I know why 😉 There are unannounced bonuses as well, which you'll discover when you join. Click to join the Herbal Fairies Book Club.
---
If you liked this post, submit your email address below to get new posts by email:
Disclaimer:
This website is not a substitute for consultation with your health care giver. You should not use any of the exercises or treatments mentioned in this website, without clearance from your physician or health care provider.
Disclosure:
When I mention products, you must assume I will receive compensation for doing so. However, I only recommend products and services I myself use or believe in and would recommend to my own sisters and mother. Nevertheless, you should perform your own due diligence before purchasing a product or service mentioned in this website.