For years now, I've been battling adult acne, and I've been looking in vain for skin care products that are natural and toxin-free.
Unfortunately, every time I switch to natural, organic products, my skin would break out again. I simply haven't been able to find a product or combination of products that would help keep my adult acne at bay.
Until now.
After months and months of trying different products, I've finally found a skin care regimen that's mostly natural and organic and free of the Dirty Dozen.
Below are the products I use, why I use them, and the effects they've had on my skin, as far as I can tell. It's a pretty long list and I'm quite shocked that I would need so many skin care products on a daily basis! But keep in mind, I have combination skin, which means I practically need two sets of products: one for my acne-prone T-zone, and another for the rest of my face.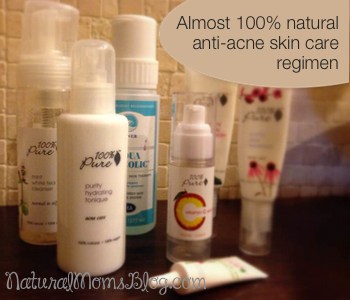 100% Pure Facial Cleansing Foam in Mint White Tea – Evening only (I wash my face with plain water in the mornings)
I use this to clean my face, including washing off makeup. But if I'm wearing eye makeup, I take it off with Everyone Face makeup remover first. I use the facial cleansing foam with my Clarisonic Mia 2. Clarisonic claims their product cleans 5x better than cleanser alone. By the way, I use a sensitive skin brush on my Clarisonic.
Aqua Glygolic Toner
 – Evening only
This is the only non-natural product I'm still using today. I have to admit, Aqua Glycolic products have been very effective in controlling my adult acne. I used to use the cleanser and toner morning and evening. Now I'm down to using only the toner, and only in the evenings. I'm hoping to eventually be able to stop using this altogether. After all, it contains some potentially toxic ingredients I'm avoiding.
100% Pure Purity Hydrating Tonique – Morning and evening
I spray this on my face after using the Aqua Glycolic toner, which is pretty strong. I like how it seems to calm down my skin from the potency of the Aqua Glycolic. It absorbs very quickly and, because it's a spray, one bottle lasts forever.
100% Pure Vitamin C Serum – Evening only
Vitamin C is supposed to be good for all skin types and I love how my skin looks so healthy and smooth after I started using this product. I think it also helps prevent new breakouts from happening. The instructions say to use it morning and night, but it's a bit expensive, so I'm making it go farther by using it only at night.
100% Pure Purity Spot Treatment – Morning and evening
I didn't think much of this product at first, when I was using it only as a spot treatment for pimples and breakouts. And then one of the smart Alex+Von consultants suggested it was actually a good moisturizer for acne-prone skin. So I began applying it all over my T-zone and, wow, my face cleared up and the break outs are definitely fewer now.
100% Pure Coffee Cherry Sun Damage Corrective Cream – Morning and evening
I'm in my mid-40s and beginning to see sun spots on my cheeks – yikes! So I think I really need something to correct the damage that years of frolicking under the sun has caused on my skin. Don't judge me; I grew up in a tropical country.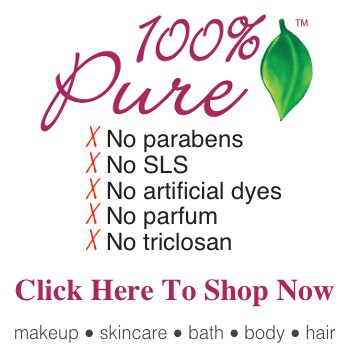 100% Pure Coffee Bean Eye Cream – Morning and evening
When I had a facial at a spa, the aesthetician told me I should stop using regular face cream under my eyes. It was my attempt at streamlining my "beauty" routine. But, she says, the skin under our eyes is extremely thin, which is why it needs products specially designed for it. Because I'd been using regular face cream under my eyes, some of my pores had gotten clogged and I had skin-colored "spots" under my eyes. Ugh. I don't make that mistake anymore. Now I use eye cream around my eyes. This product, in particular, has been clinically proven to effectively reduce undereye circles and puffiness.
Whew! Well there it is, folks, my very complicated, almost 100% natural skincare regimen.
I've been following this regimen for the past few months, and my skin has cleared up. My plan is to slowly wean myself from the Aqua Glycolic toner by reducing the number of nights I use it.
I still get the occasional monthly breakout, but when I do, it's usually a small breakout. I don't get cystic acne anymore (knock on wood; I may have jinxed myself by typing that sentence). My skin doesn't have dryness or flakiness, which is common when you use drugstore products for acne. In fact, the other day, hubby even complimented me on my skin. He had never done that before, and we've been married 19 years!
Do you struggle with adult acne? If so, what products have you found to be helpful in controlling your acne? I'm particularly interested in natural, toxin-free products you know of. Share your recommendations below.
PS: If you're interested in the 100% Pure products I mentioned in this post, I hope you'll consider shopping at my Alex+Von shop. As a consultant for Alex+Von, I will receive a commission if you purchase from my store. Let me know if you have any questions!
---
If you liked this post, submit your email address below to get new posts by email:
Disclaimer:
This website is not a substitute for consultation with your health care giver. You should not use any of the exercises or treatments mentioned in this website, without clearance from your physician or health care provider.
Disclosure:
When I mention products, you must assume I will receive compensation for doing so. However, I only recommend products and services I myself use or believe in and would recommend to my own sisters and mother. Nevertheless, you should perform your own due diligence before purchasing a product or service mentioned in this website.