I have a confession: Ever since I learned about the Roadtrek eTrek, I have had no peace.
I've been salivating over it. I haven't been able to sleep. I've been overcome with lust for this object of beauty.
I'm not one to get attached to material things, but this time, I've given in to temptation.
Can you blame me? I mean, just look at it: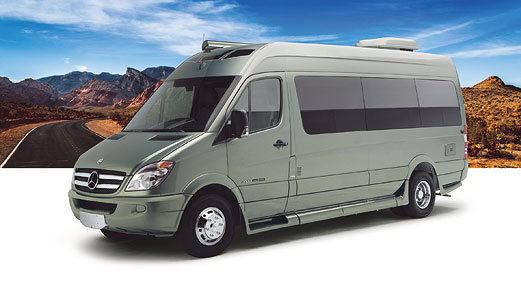 It's virtually a home on wheels, yet not much bigger than a van.
And the best part of all: it's the most eco-friendly RV to date.
Because the Roadtrek eTrek costs almost as much as our home, I am nowhere near owning one.
Dreaming, on the other hand, is free. So allow me to share with you my daydreams of how I would use my Roadtrek eTrek. If I had one.
1. Road trips
We would take road trips, but of course! Hubby likes long drives, especially on beautiful land. We're not a camping type of family, but I would love travelling in a Roadtrek, because:
It would be cheaper than staying in hotels
Let's face it, if you have more than two children, and especially if one of those children is already an adult, it's impossible to book just one hotel room for your entire family.
The trip would be more relaxed
No rushing and waiting to catch flights. No breathing stale air in an airplane. You can go at your own pace, stop anytime you please, and — with the eTrek's many features — stop anywhere you can park. No need for hookups!
You sleep in your own bed, use your own washroom, every time
I have a hard time falling asleep on strange beds, unless I'm in an expensive hotel room. When you're travelling in a Roadtrek, you sleep on your own bed, using your own sheets, and your own washroom each and every night. Oh, how much more enjoyable beach trips would be, if you never had to worry about finding a clean shower.
Where would we go? For starters, we would finally take that trip to Disneyworld, and visit my sister in Chicago. We would see the capital of Canada, Ottawa, and sharpen our French skills in Quebec.
But that's only the beginning. Only hubby's work schedule would stop us from driving to Prince Edward Island and the Rockies.
2. My very own studio
While I like my little home office, it's not ideal. It isn't a separate room, but is located at the end of our family room. I like being able to keep tabs on the goings-on in the house. But it also means distractions, noise, and zero privacy.
If I had a Roadtrek eTrek, I would sometimes use it as my private office or studio. I would lock myself in there, turn on the air conditioner (which would run on power generated by the solar panel on the roof), and write in secluded bliss.
I would record videos in it without worrying about the phone suddenly ringing, or my kids walking in on me. I would set up a video studio and leave it there for days until we needed to use the Roadtrek.
So every morning, I would put on my working clothes (which in warmer months consists of a cotton T-shirt, yoga pants, and flip flops) and walk to my new home "office" — in my very own driveway.
3. An extra guest room
We love our home, but we don't have a proper guest room. When my Mom and/or sisters visit, they sleep in the basement, in a "room" that's partitioned with floor-to-ceiling drapes, and where the washroom is tiny. Really, if you're 5'8 or taller, you would probably hit your head on the ceiling of the washroom.
This summer, one of my best friends is visiting us. She has a husband and four kids. Hubby and I will probably sleep in the family room, so they can take the master bedroom and the makeshift guest room.
How much more comfortable everyone would be if we could have some people sleep in the Roadtrek instead!
As you can see, I would get a lot of use out of a Roadtrek eTrek. The only problem I foresee is fighting over it with hubby and the teenager. Heck, the munchkins might even take over it with their various projects.
What do you think of the Roadtrek eTrek? Where would you go if you had one?
PS: I'm proud to say that Roadtreks are built in nearby Kitchener, Ontario 🙂
---
If you liked this post, submit your email address below to get new posts by email:
Disclaimer:
This website is not a substitute for consultation with your health care giver. You should not use any of the exercises or treatments mentioned in this website, without clearance from your physician or health care provider.
Disclosure:
When I mention products, you must assume I will receive compensation for doing so. However, I only recommend products and services I myself use or believe in and would recommend to my own sisters and mother. Nevertheless, you should perform your own due diligence before purchasing a product or service mentioned in this website.