Every time I drop a dollop of coconut oil onto my pan, wait for it to melt, then use a pastry brush to evenly and ever-so-thinly apply it on the pan's surface, I wonder: "Why don't they make coconut oil spray?"
Then I remind myself that coconut oil solidifies below 24 C (76 F), and that must be the reason why it doesn't work as a spray.
But on my last trip to Trader Joe's, my heart skipped and fluttered when I saw this: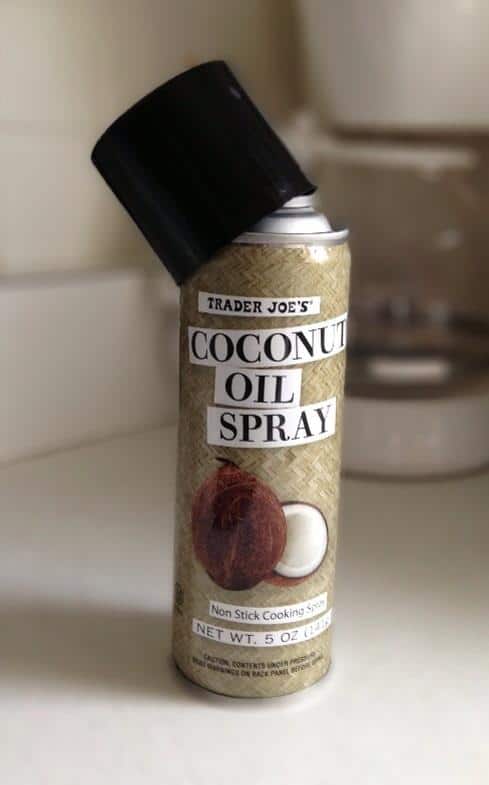 Of course, my first worry was what they mixed with the coconut oil to create this fantastic product. The ingredients are: mechanically-pressed, refined organic coconut oil, soy lecithin, natural flavors, propellant (no chlorofluorocarbons). Contains: Coconut and soy
I'm glad it's a short list, but I'm concerned about two things.
First, it's refined coconut oil, which means some of what makes coconut oil so amazing has been removed 🙁
My second concern is the added so-called "natural flavors." First they strip the oil of its flavor and scent, and then they add it back? I wonder where these flavors come from exactly.
That said, I'm glad the propellant doesn't include CFCs, which are bad for the ozone.
I used the coconut oil spray for the first time this morning. It sprayed lightly and overall was very pleasant. I'm definitely replacing my canola oil spray with this.
Have you tried Trader Joe's Coconut Oil Spray? If so, how do you like it?
PS: Another bonus, this product is made with coconuts that are just like me: grown in the Philippines!
---
If you liked this post, submit your email address below to get new posts by email:
Disclaimer:
This website is not a substitute for consultation with your health care giver. You should not use any of the exercises or treatments mentioned in this website, without clearance from your physician or health care provider.
Disclosure:
When I mention products, you must assume I will receive compensation for doing so. However, I only recommend products and services I myself use or believe in and would recommend to my own sisters and mother. Nevertheless, you should perform your own due diligence before purchasing a product or service mentioned in this website.