With the summer sun shining in full force every day, I recently discovered the joys of line drying.
I thought, "what a waste to have all the sunshine and still run the dryer!" So I went out and bought a drying rack like this: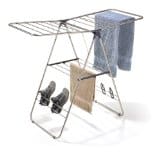 Polder Dry-4030-75 Collapsible Indoor/Outdoor Y Dryer, Stainless Steel
Mine isn't exactly like this; mine is a $17 one from Canadian Tire, but this is pretty close. So I've been using it to line dry The Toddler's cloth diapers and wipes (which are really just washcloths, some of which I cut into fourths).
Anyway, I've been loving it! Yes, it takes much longer than using the electric dryer – BUT – line dried diapers are so brightly white and fresh smelling that I am positively addicted to it.
Sunshine not only bleaches the cloth diapers and wipes. It also disinfects them naturally, without any chemicals. I've noticed that The Toddler's diapers don't smell as strongly of ammonia as it used to right before I throw them into the washing machine.
I can't wait to see how much electricity I'm saving by line drying.
Plus, the act of hanging up the diapers is so calming and a welcome break from my home biz. I actually felt sad at the thought of not being able to do this in the winter.
But then, I Tweeted about it and @earth_mommy gave me an excellent idea: line drying indoors!
Because I use a rack and not a clothesline, I can easily line dry indoors. I do have a sunny spot in my basement, right next to a small window, where I could set up the rack and hang up the diapers.
Of course, by then, I'm hoping that The Toddler will be potty trained and out of diapers. But that's a topic for another story….
Do you line dry? Why or why not? Post a comment below and share your thoughts!
---
If you liked this post, submit your email address below to get new posts by email:
Disclaimer:
This website is not a substitute for consultation with your health care giver. You should not use any of the exercises or treatments mentioned in this website, without clearance from your physician or health care provider.
Disclosure:
When I mention products, you must assume I will receive compensation for doing so. However, I only recommend products and services I myself use or believe in and would recommend to my own sisters and mother. Nevertheless, you should perform your own due diligence before purchasing a product or service mentioned in this website.