You strive to reduce toxins in your home, but are you sending your children to school without toxins as well?
School supplies are laden with potentially harmful, toxic chemicals. Stay vigilant when you're shopping for school.
Toxic Culprits
Here are some toxic ingredients to watch out for when you're doing back-to-school shopping:
PVC
Polivinyl chloride or PVC is a type of plastic. Making PVC involves the use of cancer-causing chemicals like ethylene dichloride (EDC), vinyl chloride monomer (VCM). Aside from being harmful to humans, these chemicals also contaminate the environment.
Heavy metals like lead and other toxic additives are also used to add color and flexibility to PVC.
PVC production also produces toxic by-products like dioxin, PCBs and HCB or hexachlorobenzene.
You'll find PVC in many school supplies. Everything from backpacks to binders to pencil cases can be made out of PVC. To check, look for the number 3 on the product. That means the item contains PVC.
BPA
Remember bisphenol A (BPA) that hit the news a few years ago? It's an industrial chemical used in plastic products, usually food packaging. It's a hormone disruptor and possibly cause reproductive disorders, heart disease, memory problems, asthma, increased breast cancer risk, and many other ill effects.
BPA has been banned in baby bottles in Canada, but it's still prevalent in other products. Watch out for BPA in water bottles, food containers, and lunch boxes.
Artificial Fragrance
Scented school products are fun, but if they're scented with artificial fragrance, they could contain phthalates and other toxic chemicals. Phthalates have been linked to asthma, diabetes, and cancer.
Avoid scented pencils, markers, and other school supplies with artificial fragrance.
Toxin-Free Alternatives
How do you ensure your children's school supplies are free of these most common toxins?
For one, buy products that are made of natural materials and labeled to be free of PVC, BPA, and artificial fragrance. You'll be surprised at how many school supplies are now being made without these toxins. I was pleasantly shocked to find many in our local Walmart.
Fabric Backpacks
For example, backpacks are usually made with PVC. This year, we bought natural-fiber bags for the munchkins.
I got this So Young linen backpack and matching lunchbox for the munchkin boy:
So Young products are labeled as "PVC, phthalate, and BPA-free."
The munchkin girl (who will soon become a teenager) picked this canvas backpack:
Water Bottles
Toxin-free water bottles are made of glass or stainless steel.
For practical purposes, I don't want to give the munchkins glass water bottles. We've also tried stainless steel bottles in the past. After they were dropped and banged countless times, they got misshapen and no longer stand by themselves. They always topple over!
So we've decided on these BPA-free water bottles with filter from Brita:
They also come in a smaller size with cute designs for younger kids:
The munchkins love these water bottles! In fact, my daughter claims her Brita water bottle makes the best-tasting water. She refuses to drink water from anywhere else.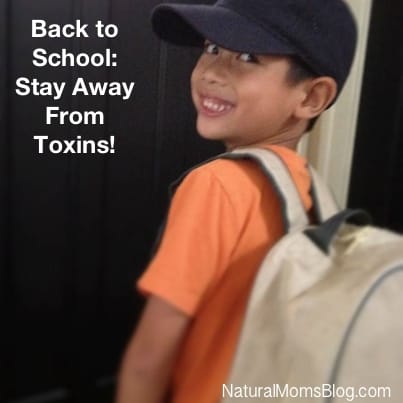 For more information, watch this video and click on the link to download a guide to toxin-free back-to-school shopping. You can also check out this article from Environmental Defence Canada.
You can find more tips to make your back-to-school shopping more earth-friendly here.
What toxin-free, earth-friendly school supplies did you buy for your children? Share your earth-friendly finds in the comments below!
---
If you liked this post, submit your email address below to get new posts by email:
Disclaimer:
This website is not a substitute for consultation with your health care giver. You should not use any of the exercises or treatments mentioned in this website, without clearance from your physician or health care provider.
Disclosure:
When I mention products, you must assume I will receive compensation for doing so. However, I only recommend products and services I myself use or believe in and would recommend to my own sisters and mother. Nevertheless, you should perform your own due diligence before purchasing a product or service mentioned in this website.