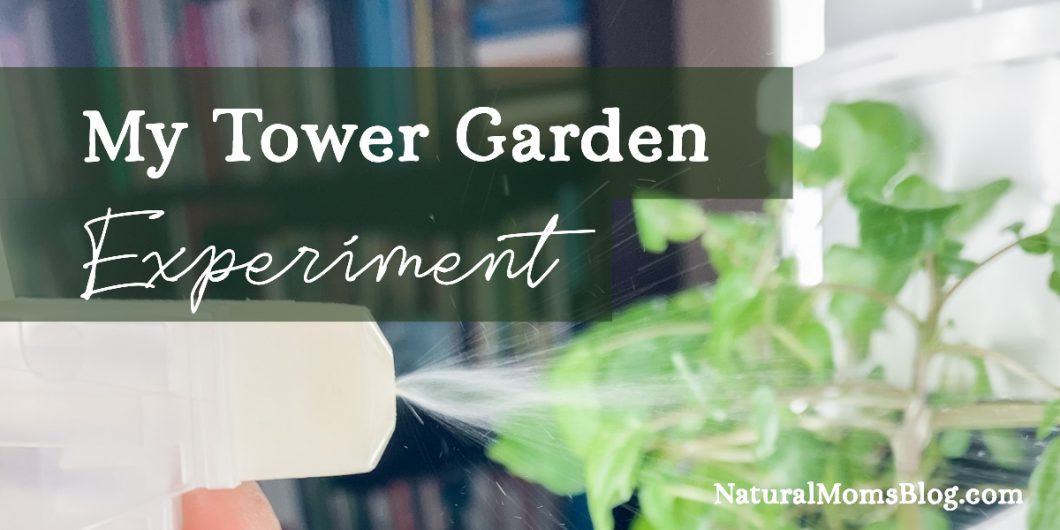 Here's my latest experiment on my Tower Garden: using Effective Microorganisms or EM.
What are Effective Microorganisms?
Effective Microorganisms are a specific combination of three types of naturally occurring microbes:
Lactic acid bacteria - The same bacteria used to make fermented foods like sauerkraut and cheese
Beneficial yeast - Good yeast, like the one used for baking and brewing
Photosynthetic bacteria or phototropic bacteria - Bacteria that use photosynthesis to produce energy
This combination was discovered by Teruo Higa, a Japanese scientist and professor of horticulture. He figured out this combination when he was doing research to help farmers increase their yield without the use of expensive chemicals and without harming the environment.
The idea is to introduce these beneficial microorganisms so that they outnumber and overpower the bad bugs.
What are the Benefits of Effective Microorganisms?
I first learned about EM when I began Bokashi composting. In Bokashi composting, EM is the substance that ferments food waste and turns it into compost and organic fertilizer in the form of Bokashi tea.
Effective Microorganisms have many beneficial effects in gardening:
improving plant growth and yield
optimizing plant health, making them more resistant to pests and diseases
increasing seed germination
improving soil fertility and soil quality
Outside the garden, Effective Microorganisms have other benefits. These include:
removing odors
rehabilitating polluted or algae-filled water
balancing gut microbiome, when taken as a probiotic drink
Since I've started doing Bokashi composting again, EM has been in my radar again. I ordered activated EM primarily for my outdoor garden. I'd been applying Bokashi tea to my outdoor plants as a microbial inoculant, and I thought it would be a good idea to include Effective Microorganisms as a foliar spray.
This got me thinking ... could I use EM on the Tower Garden, too?
Is EM Beneficial for Aeroponic Gardens?
I found very few resources on the topic.
One small study I found was encouraging: Lettuce plants treated with EM were significantly more productive (as measured by the dry weight of the harvest) than similar plants given 100% and 50% of the recommended rate of fertilizers.
But the findings weren't all positive in another different study on the effect of EM and other __ on the growth of lettuce in a hydroponic system. This study found that while EM had a positive effect on the leaf growth of lettuce, it had no influence on the uptake of nutrients.
I also came across this video talking about the benefits of EM in hydroponics. Specifically, this hydroponic grower uses Effective Microorganisms in "battling waterborne pathogens, increasing plant general health, and looking at pond health."
Since I use hydroponics is very similar to aeroponics, I use it as an analog for aeroponics. I took my cue from these extremely limited sources and decided to introduce it to my Tower Garden.
WARNING: Nobody — and I mean nobody — has ever talked about using EM in the Tower Garden. So, what I'm doing is a big experiment and one that carries risk. This is by no means a recommendation for you to do the same thing.
How Do You Use Effective Microorganisms in the Tower Garden?
I'm using EM in my Tower Garden in two ways:
1. As a foliar spray
As the name implies, this involves spraying diluted activated EM onto the foliage (leaves) of plants. The recommended dilution from my EM supplier is 1:1,000 or 1 mL (a few drops) per 1 liter of water.
I apply this with a spray bottle, making sure to completely drench the tops and bottoms of leaves. I spray the rock wool cubes, too, in the hopes that this will control the growth on algae on them.
I do this once a week.
2. As a water additive
I've been simply adding activated EM to the Tower Garden's reservoir. The recommended dilution in hydroponics systems is also 1:1,000, which works out to 4 mL per gallon. Since the Tower Garden Flex has a capacity of 20 gallons of water, the amount of activated EM comes out to 20 mL, which is equivalent to 4 Tablespoons or 1/4 cup.
Another site, however, says the dilution rate for hydroponics is 1:10,000! That would come out to half a tablespoon of activated EM for the entire reservoir of the Tower Garden Flex.
I've been adding 1 Tablespoon, once a week, which adds up to 4 Tb a month.
Does It Work?
Since I started using Effective Microorganisms in my Tower Garden as described above, my plants are finally taking off.
If you recall, I had to practically restart my Tower Garden from scratch after my plants suffered heat stress and spider mites. After using spray with neem oil and baking soda, I haven't seen any signs of the spider mites. However, the plants seemed to be growing more slowly than before.
That has changed since using EM.
I don't know for sure if this is a benefit of EM or if it was a coincidence. Maybe my plants would've taken off anyway.
I'm treating this as my own experiment on the effects of Effective Microorganisms in an aeroponic system like the Tower Garden.
I'm going to be keeping a close eye on things and will update you on my progress.
You're free to experiment with your Tower Garden. Whether it's growing all sorts of exotic plants, using a different nutrient solution, or adding an inoculant like Effective Microorganisms, remember it's your garden and you can do what you want.
---
If you liked this post, submit your email address below to get new posts by email:
Disclaimer:
This website is not a substitute for consultation with your health care giver. You should not use any of the exercises or treatments mentioned in this website, without clearance from your physician or health care provider.
Disclosure:
When I mention products, you must assume I will receive compensation for doing so. However, I only recommend products and services I myself use or believe in and would recommend to my own sisters and mother. Nevertheless, you should perform your own due diligence before purchasing a product or service mentioned in this website.