Ever since my entire family got sick right after Christmas, I've been using essential oils every day. I've been obssessed with essential oils — how to use them, where they're from, what they can do, what research says about them.
Since receiving a box of samples from Floracopeia, I've had many opportunities to try and test essential oils. I'd like to share two essential oil recipes with you in my next few posts.
Essential Oils for Eczema
A couple of weeks ago, the 6-year-old munchkin boy had a viral infection. Nothing too awful, just a fever and runny nose. The thing is, this viral infection made him go into another eczema flare-up. Aside from the usual places, he also had itchy patches on his back, stomach, thighs, chest, and neck.
I hurriedly brought him to our naturopathic doctor, who recommended echinacea and probiotics to help re-balance his immune system. We also had to go back to his allergen-free diet, even though before this incident, he had been back eating wheat for months.
At the same time, I replaced the Aveeno eczema cream for a combination of oils. The Aveeno cream was the topical treatment that had worked the best for my son. But since he had a flareup while using it every day, I figured it was probably time to rotate it with something else (I suspect our bodies get used to stuff we use after a while and that's why they stop working so well).
Here's the recipe I used, which was inspired by one from the Complete Book of Essential Oils and Aromatherapy by Valerie Ann Worwood:
2 tablespoons jojoba oil (as carrier oil)
10 drops chamomile essential oil
10 drops evening primrose oil (from a gel capsule)
5 drops lavender essential oil
5 drops helichrysum essential oil
I added lavender, because one of my blog readers recommended it to me many months ago. However, back then, I had no idea how to use it. And, truth be told, at the time DS's skin was in such bad shape I didn't want to try anything tooo "exotic."
As for helichrysum, I decided to use it, because Floracopeia's website describes it as:
Supportive in the healing of wounds (internal and external), bruises, and scar tissue (both recent and established), helichrysum significantly enhances skin health, regeneration and beauty.
Helichrysum is also said to have anti-inflammatory properties — perfect for eczema, right?
As for jojoba oil, Worwood says it's perfect for "inflamed skins" such as eczema. An excellent reason to use it as carrier oil.
I've been applying this mixture all over munchkin boy's body twice a day: at night after his bath or shower, and in the morning.
I'm happy to report his skin is now completely clear.
In my next post, I'll tell you about the essential oil recipe I used for my "frozen" shoulder.
Have you tried essential oils for eczema for other skin problems? If so, which oils worked best for you? Do share your experience!
Lexi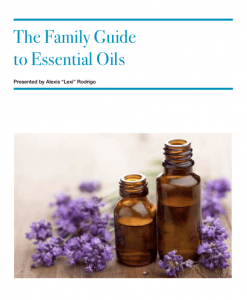 PS: Want to learn more about how to use essential oils? Get my free report, "The Family Guide to Essential Oils." It's completely free — just let me know where to send it by filling in the form below:

Resources Used in This Post:
Essential oils and carrier oil from Floracopeia
Post image by Floracopeia
Disclaimers
The statements made in this post have not been evaluated by the Food & Drug Administration. The products mentioned are not intended to diagnose, cure or prevent any disease. If a condition persists, please contact your physician or health care provider. The information provided by this special report or this company is not a substitute for a face-to-face consultation with a health care provider, and should not be construed as individual medical advice.
This post may contain affiliate links. While I only recommend products, merchants, and services I myself use, you should conduct due diligence before purchasing these products.
---
If you liked this post, submit your email address below to get new posts by email:
Disclaimer:
This website is not a substitute for consultation with your health care giver. You should not use any of the exercises or treatments mentioned in this website, without clearance from your physician or health care provider.
Disclosure:
When I mention products, you must assume I will receive compensation for doing so. However, I only recommend products and services I myself use or believe in and would recommend to my own sisters and mother. Nevertheless, you should perform your own due diligence before purchasing a product or service mentioned in this website.