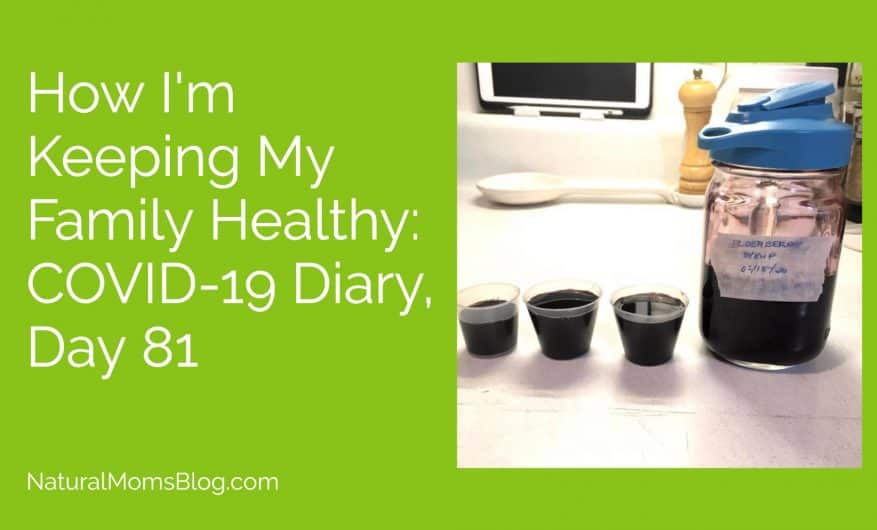 "We're all probably going to get this," I heard the experts say early in the pandemic.
Since then, I've looked for ways to make sure my family has the best chance of having the mildest symptoms and surviving COVID-19.
I've tried many things, starting with making my own elderberry syrup, fire vinegar, and fermented foods like sauerkraut.
Eventually, after following Dr. Chris Masterson (Peak Prosperity), Dr. John Campbell, phD, and Dr. Roger Seheult (MedCram), I've come up with the following stay-well plan:
Hand Hygiene
The very first thing I spoke to my children about was proper hand hygiene. Even before the pandemic, I've always told them to wash their hands first thing as soon as they come home, and of course, after using the washroom. I felt so vindicated when my eldest daughter said, "that's what mom always taught us!"
And then, I remembered that, once upon a time, I recorded this:
I had my son (who's now 13 years old) watch a hand-washing video by the CDC and demonstrate it to me.
Disinfection
The second step is making sure we're able to disinfect the most commonly-touched surfaces at home.
Again, this is something I'd always done even before the COVID-19 pandemic. But whereas I used to do it once a week or so, I now do it daily. When my husband, daughter, or anybody else has been outside the house, I disinfect even more often.
I was very sad to discover that my old stand-by, white vinegar, does not kill the SARS Cov-2 virus! Instead, the CDC says that only rubbing alcohol (at least 60%), hydrogen peroxide, and bleach can effectively kill the virus that causes COVID-19.
I have to admit, I went out and bought a jug of bleach for the first time!
But fortunately, a friend of mine posted this Facebook:
What a relief to know I don't have to use that awful bleach!
Instead, I have a plant-based disinfectant that's proven to kill the COVID-19 virus. I like to use Sol-U-Guard for surfaces we eat and prepare food on. This includes the coffee table in the family room and our kitchen counters.
For doorknobs, cellphones, light switches, and such, I use alcohol. I'm such a germophobe that I had plenty of alcohol bottles lying around the house — including one I used in my last office-based job. Every Monday, I would go around disinfecting door handles, my entire desk and computer keyboard, the phone I rarely used, and the controls on the water dispenser.
Supplements
One of the first things I did after the pandemic was announced was to do research on which supplements and herbal tonics could fortify our bodies so we'd be strong enough to beat this virus.
I went back to making my own elderberry syrup. And soon discovered there was a lot of controversy about it! I don't think it's dangerous to COVID-19 patients at all, but it appears not to help, either.
The organic dried elderberries I purchased on Amazon was soon out of stock. And so, I switched to making fermented foods, like my own sauerkraut and yogurt, kefir and fire cider.
It turns out, though, that Bobby refuses to eat them, anyway. I still make yogurt and coconut milk kefir, but the sauerkraut and fire cider remain untouched in the refrigerator. ?
Ultimately, I came up with this list of supplements for me and my family:
1. Vitamin C
Vitamin C is an old stand-by in our household anyway. It's just that, nowadays, we take it daily regularly. This is the specific brand I like to give my family:
I like Activate-C because each serving has 1200 mg of vitamin C, 15 mg of zinc, 15 IU of vitamin E, as well as the herbs astragalus (50 mg) and aronia melanocarpa (25 mg).
Because it's a powder you mix with water or juice, it's easier to get down than gigantic tablets of vitamin C.
The only "con" is that it's sweetened with fructose. Not the healthiest sweetener around.
2. Vitamin D
I've learned a TON about vitamin D since the pandemic. It turns out to be an essential nutrient that's critical for a host of processes in our bodies. And a vitamin D deficiency is associated with an increased risk for infections diseases as well as cancers and other illnesses.
I also learned that darker skin takes longer to produce vitamin D, that it doesn't do any good to sit or stand by a sunny window, and there's no way for us in the Northern Hemisphere to get the right kind of sun exposure in the wintertime. And so, vitamin D supplementation is necessary.
My naturopathic doctor had prescribed vitamin D to me last year, but I stopped taking it in the summer. I thought I'd produce enough to carry me through the winter.
Even though we're entering summer again, I decided to start supplementing with vitamin D again and to give it to my family members as well. How much vitamin D? I follow the formula my naturopathic doctor provided, which is based on our weight. (Hint: It's much more than the RDA).
We're also spending more time outdoors in the sun. I sometimes sit and work in the front porch or back deck. Something I call "chasing the sun."
3. Zinc
Zinc has become the talk of the town because in vitro, it's been shown to stop coronaviruses from replicating. That's outside the human body, though. Inside our bodies, the zinc would need to be able to enter our cells first.
Which leads us to the need for a zinc ionosphore to give the zinc and entryway into our cells. One such zinc ionosphore is ...
4. Quercetin
Quercetin allows zinc to enter the body's cells, where it can then keep SARS-Cov 2 viruses from multiplying and taking over. We order ours from Amazon.
There's one more thing I do to protect myself and my family during this pandemic. However, it deserves its own blog post. Watch out for it!
---
If you liked this post, submit your email address below to get new posts by email:
Disclaimer:
This website is not a substitute for consultation with your health care giver. You should not use any of the exercises or treatments mentioned in this website, without clearance from your physician or health care provider.
Disclosure:
When I mention products, you must assume I will receive compensation for doing so. However, I only recommend products and services I myself use or believe in and would recommend to my own sisters and mother. Nevertheless, you should perform your own due diligence before purchasing a product or service mentioned in this website.