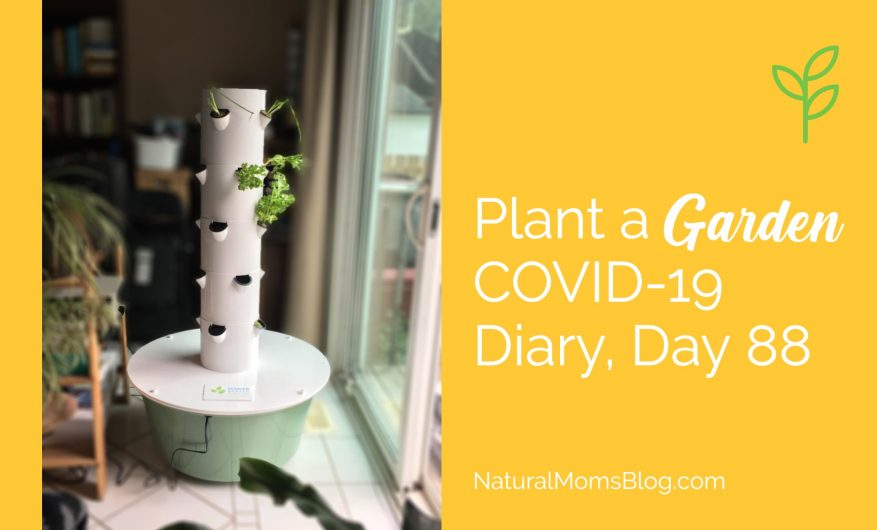 I've been wanting to get back to gardening. Now, the pandemic has cemented this intention into action.
Some government officials have been warning that the food supply chain may be affected. That food access would suffer. At the very least, the prices of some items will go up.
Already, as of today, we have 34 confirmed cases of COVID-19 among agricultural workers in Windsor-Essex.
I'm not that worried about our food security. My primary motivation for growing our own food is to make sure we have access to high-quality vegetables so we can stay healthy during the pandemic ... without having to pay an arm and leg for it.
That's why, after years of drooling over one, I finally made the leap and invested in a ...
Tower Garden by Juice Plus+
When I saw it for the first time several years ago, I knew I wanted a Tower Garden. But at the time, the price tag felt very prohibitive.
This time, it's much more affordable. Especially with the interest-free, 12-month payment plan offered by Juice Plus+. (If you're interested, ask me how you can save 10% on your Tower Garden.)
Our outdoor growing time is so short that I've been so desperate to grow year-round indoors, even in the wintertime. But when I did the research into how to set up my own indoor gardening systems, I got overwhelmed ... and simply gave up!
That's why I'm super excited that I can now afford the Tower Garden.
Apparently, I'm not the only one!
Tower Garden Shortage
Shortly after ordering my Tower Garden Flex, it sold out! This made me regret ordering the Flex over the Tower Garden Home model, which did not go out of stock.
I had to wait one whole month before receiving my Tower Garden Flex. And when it finally arrived, it wasn't quite complete, as you'll see in this video:
My husband and I assembled the Tower Garden on a Saturday morning. It took under 30 minutes to have everything up and running.
Juice Plus+ sends you a booklet with a step-by-step guide for getting started. There are also plenty of how-to videos on YouTube and the Tower Garden website itself.
Tower Garden Starter Seeds
The seeds arrived about four days after the Tower itself.
I received seeds for arugula, Bibb lettuce, rainbow chard, gourmet lettuce, black magic dino kale, and sweet basil. I must say, these are very high-quality seeds! Everything I started in the included rock wool cubes germinated!
In about a week, the seedlings were more than 1 inch high and had tiny roots coming out of the rock wool cubes — signs that they're ready for the Tower Garden. I simply popped each one, rock wool cube and all, into a net pot.
But I have to make a confession.
The official Tower Garden guides say one must start seeds in rock wool cubes. I did not do this 100% of the time. I planted some seeds directly into rock wool cubes inside the Tower!
This didn't work consistently with the seeds I'd saved. The spinach, mixed lettuce, and edible flower mix did not germinate. Granted, these seeds are several years old. But the bok choy seeds did sprout! As did the mustard and okra seeds my friend mailed to me from Toronto. (I didn't know it was okra; I'm going to have to move it to my garden bed outdoors).
From the Tower Garden seeds, I direct-seeded rainbow chard. It germinated straight away.
Order Seedlings for Your Tower Garden
While I was waiting for my seeds to sprout, I ordered seedlings from authorized vendors that grow seedlings specifically for Tower Gardens.
This means the seeds were germinated in rock wool cubes — no dirt. And when they ship out, they're ready to pop into the net pots.
You can, of course, use seedlings that started in soil, too. But you'd have to rinse and clean them very carefully to make sure none of the soil is left to contaminate the water in your Tower Garden.
As I'm writing this, we've now had the Tower Garden for a little over two weeks. Some plants are growing better than others, as you'll see in the video above.
The lettuce, bok-choy, rainbow chard, arugula, mustard, and basil are thriving.
The spinach seedlings are growing ever so slowly. They look thin and spindly. Is it because it's been warm and spinach is a cold-weather plant?
I haven't seen a lot of growth in the oregano plants, either. And the seedlings were miniscule to begin with when they arrived.
I'm keeping my fingers crossed that they'll survive well enough until the "official" Tower Garden grow lights arrived because ...
Tower Garden LED Indoor Grow Lights: Out of Stock
They were sold out when I ordered them on April 22nd. One and a half moths later, the Tower Garden LED Indoor Grow Lights are still on back order.
I was tempted to place my Tower Garden Flex outdoors while waiting. After all, I'm eager to grow food, and I wouldn't want to waste my seeds and seedlings by having them die due to the lack of sunlight.
But for a variety of reasons, I decided that I really, really did NOT want to put the Tower outside.
And so, while waiting for the LED Indoor Grow Lights, I ordered a few inexpensive LED plant lights from Amazon.
At first, I bought one similar to this:
I didn't like the grow lights that had pink and blue lights. I thought that would be too distracting, especially since the Tower Garden is in my home office, beside the computer table. That's why I picked ones that provide a white light.
The plants close to the grow lights looked happier immediately!
But the lamps don't quite cover a lot of plants. That's why I ordered another set of grow lights. This time, with longer lamps, like this:
Even thought these LED grow lights are inexpensive, I was pleasantly surprised that they both come with timers. I'm able to set them up to automatically switch on at 7 am and switch off 12 hours later.
With two sets of plant lights, the coverage is now much better, with about half of the Tower Garden receiving artificial light from these lamps and the other half facing glass sliding doors. Very convenient!
In addition to the lights, every day, I turn the Tower Garden a quarter turn. This way, each plant gets a turn facing the sunlight through the glass doors.
It's still not the ideal indoor gardening setup—to be honest I don't think these grow lights are strong enough—but I think this arrangement will do until the Tower Garden LED indoor lights arrive.
It also sucks that I have to spend extra $$$ for these lights when the Tower Garden lights are quite pricey to begin with (and I've already paid for them).
But I'll be able to use the cheap grow lights on my other indoor plants when the Tower Garden indoor lights finally arrive. I've got plants in almost every nook and cranny inside my house. I'm sure I'll be able to make good use of the grow lights from Amazon.
---
If you liked this post, submit your email address below to get new posts by email:
Disclaimer:
This website is not a substitute for consultation with your health care giver. You should not use any of the exercises or treatments mentioned in this website, without clearance from your physician or health care provider.
Disclosure:
When I mention products, you must assume I will receive compensation for doing so. However, I only recommend products and services I myself use or believe in and would recommend to my own sisters and mother. Nevertheless, you should perform your own due diligence before purchasing a product or service mentioned in this website.