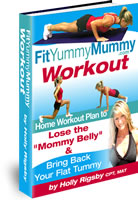 Update (January 12, 2009):

After doing the Fit Yummy Mummy workout for a couple of weeks, I noticed my clothes were looser! I could also see my arms getting more toned.
I also finally joined Club Fit Yummy Mummy, the online community of Fit Yummy Mummy ownders. Why did I wait so long? As a Christmas gift, Holly gave us access to the exercise videos, which she normally sells. I saw that I was actually doing some of the moves wrong. Mostly, I was doing them too fast.
From the forum, I also got answers to my workout questions, such as: what cardiovascular exercise can I do when it's too cold outside for my usual walk? Thankfully, the answers did not involve buying a treadmill or any other new equipment.
Unfortunately, a series of illnesses made me stop exercising altogether over the holidays. Holly's motivational Emails with tips on how to avoid the dreaded holiday weight gain – while still enjoying the parties – were a big help.
Now a case of chilblains has got me on my feet again and back to my Fit Yummy Mummy workouts. Man, this feels good! I cannot wait to look even better than before I got pregnant for the third time.
*****
Most people who know me would be surprised that I am writing about how to lose pregnancy weight. After all, I've always been underweight – still am. But after having 3 babies and with my 40th birthday fast approaching, I find myself underweight and flabby. My arms jiggle, my abs are soft. My daughters tease me about it and I say, "That's from having you!" But I know that I better build some muscle or else my metabolism will slow down, I WILL gain weight more easily than before, and worst of all, I will become more susceptible to weight gain-related diseases, such as diabetes and heart disease.
I have been pushing away these thoughts from my mind because I wasn't prepared to do what I knew was needed to reverse this downward trend that I'm on. Until I discovered the Fit Yummy Mummy program. I'm not new to exercising. In fact, before I got pregnant for the third time, I had been working out in a gym regularly. Plus, I own a dozen exercise DVDs.
But the Fit Yummy Mummy program is different:
[ad#ad-2]
each workout lasts only 15 minutes, for a total of 90 minutes per week
there are two types of workouts: weight training and cardio
you can move your workouts around to suit your schedule, as long as you complete 45 minutes of weight training and 45 minutes of cardio every week
the workouts are so varied that it would be hard to get bored
I already have a 30-minute walk most days. With the interval training that the Fit Yummy Mummy teaches, I can cut my walk into half and yet get more fat-burning results
I began my 16-week program today. Other than the toddler trying to climb on my back as I did the plank, everything went smoothly, and my weight training workout was done before I knew it. So many other women are using the Fit Yummy Mummy to lose their pregnancy weight. Won't you join us?
Click here to learn more about the Fit Yummy Mummy program to get your pre-pregnancy body back – or look better than you every have before!
---
If you liked this post, submit your email address below to get new posts by email:
Disclaimer:
This website is not a substitute for consultation with your health care giver. You should not use any of the exercises or treatments mentioned in this website, without clearance from your physician or health care provider.
Disclosure:
When I mention products, you must assume I will receive compensation for doing so. However, I only recommend products and services I myself use or believe in and would recommend to my own sisters and mother. Nevertheless, you should perform your own due diligence before purchasing a product or service mentioned in this website.