I've been making yogurt at home for about almost 8 years now and I've developed my own lazy Mom's method. Now I am sharing with you my own method for how to make yogurt, without having to scald milk or use thermometers or anything like that. My reasoning is, since yogurt has been around for hundreds of years, I'm sure people who've been making yogurt all that time did not do it so precisely! My "lazy Mom" method is simple and easy but it works. Try it and soon you'll be enjoying yogurt and its benefits.
For my simplified version of how to make yogurt, you'll need the same ingredients as the basic yogurt recipes. You'll also need a yogurt maker. I use the Salton Yogurt Maker (see below), available in Amazon.com, and I've had great success with it.
[ad#ad-2]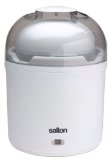 Ingredients:
1 liter of milk – Use non-fat, if you like, but it makes for a runnier yogurt
Powdered milk – Optional, but necessary to make creamy yogurt when using skim milk. Use about 1/4 cup or 4 tablespoons of powdered milk per liter of milk
yogurt starter – Others will say you can use a small amount of store-bought yogurt as starter, but every single time I've tried that, my yogurt has failed. Goes to show how little live bacteria is left in store-bought yogurt
sweetener of your own choice – Personally I use stevia powder
How to Make Yogurt:
1. Plug the yogurt maker to warm it up. Pour milk into the container of your yogurt maker.
2. Empty contents of 1 sachet of yogurt maker into a cup. Add spoons full of milk into the cup and stir to dissolve the yogurt starter.
3. Stir yogurt starter and milk mixture into the rest of the milk. Add sweetener. Stir until the sweetener is completely dissolved.
4. Place the container into your yogurt maker. Leave to incubate for at least 12 hours.
5. When the yogurt is as creamy as you desire, place the container in the refrigerator for at least 1 hour before eating.
Because I don't warm up the milk, this method for making yogurt will take longer than the usual method. You'll have to incubate the yogurt for at least 12 hours – longer if you're using non-fat milk and want a creamy texture. If you don't mind a liquid, kefir-like texture, then 12 hours is long enough.
So there it is, my simple, easy lazy-Mom's instructions for how to make yogurt at home. Try it yourself and let me know what you think, ok?
PS Here's a video that shows the usual (hard) way of making yogurt. See how much easier the lazy Mom's method is?
---
If you liked this post, submit your email address below to get new posts by email:
Disclaimer:
This website is not a substitute for consultation with your health care giver. You should not use any of the exercises or treatments mentioned in this website, without clearance from your physician or health care provider.
Disclosure:
When I mention products, you must assume I will receive compensation for doing so. However, I only recommend products and services I myself use or believe in and would recommend to my own sisters and mother. Nevertheless, you should perform your own due diligence before purchasing a product or service mentioned in this website.