Last week, I was looking for homeschooling programs for toddlers. You see, I've decided to homeschool my toddler. I'm not really a homeschooling Mom. My two older children attend regular school. I do consider myself a "blended schooling" Mom: I recognize my role as my children's first teacher and teach them whatever I feel their schools cannot or do not teach. I've taught my two oldest children to read and, when they were still in secular schools, we had Catholic catechism at home. I also augmented my first daughter's preparation for Holy Communion with special "classes" at home.
Well, now that I'm a stay and work at home Mom, I thought it would be great to homeschool the little one before he reaches school age. I spent a couple of hours online looking for homeschooling programs for toddlers. I was disappointed. The few that I found were paper-and-pencil activities, which in my opinion are not appropriate for two-year-olds.

[ad#ad-1] So I decided to make my own homeschooling program. I searched high and low on Amazon.com and finally picked the following resources: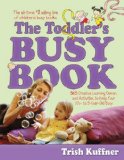 The Toddler's Busy Book: 365 Creative Learning Games and Activities to Keep Your 1 1/2- to 3-Year-Old Busy
I have to admit, I chose this book because of the many glowing reviews. I was also attracted to the chapter on organizing for toddlers and how to stock arts and crafts materials. I like the variety of activities the book contains, including activities for the kitchen while Mom is cooking, water activities, nursery rhymes, music and movement, arts and crafts, outdoor activities, and traveling activities. Also, the author, Trish Kuffner, is a mother of 4 children; I always listen to advice from Moms who have more children than I do.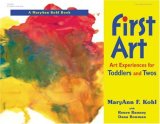 First Art: Art Experience for Toddlers and Twos
I love art activities and when I discovered this book, I just had to buy it! It also comes highly recommended by the reviewers. I am particularly looking forward to the recipes for play dough, finger paints and goop. I can tell that my 8-year-old daughter will have fun with this book, too.
When we have settled into a homeschooling routine, I will order: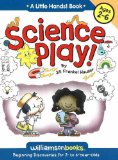 Science Play: Beginner Discoveries for 2- to 6-year-olds
Fun science activities using stuff around the house and backyard. I look forward to ordering this book soon!
Oh and for my third grader, who needs to memorize her times tables this year, I ordered:
This is a CD and book kit that helps kids memorize their times tables up to 12. I enjoyed using a similar material, "Times Tunes," with my now 14-year-old. She had fun listening and easily memorized the times tables. Unfortunately, "Times Tunes" only comes in cassette and we no longer own a cassette player. I find Multiplication Unplugged to be not as much fun as "Times Tunes" but the songs are also memorable. I have no doubt my second daughter will soon know her multiplication through this CD – she memorizes parts of songs after hearing them only once!
So there you have it. I'll be busy going over these books in the next few days and organizing my toddler homeschooling routine with my little tyke. Just browsing through these books, I can see that I will have a lot of shopping to do this weekend. Nothing fancy, just stuff like liquid cornstarch and food coloring.
Related Resources:
Homeschooling Articles – Everything from scheduling to reviews of homeschooling programs to famous homeschoolers.
---
If you liked this post, submit your email address below to get new posts by email:
Disclaimer:
This website is not a substitute for consultation with your health care giver. You should not use any of the exercises or treatments mentioned in this website, without clearance from your physician or health care provider.
Disclosure:
When I mention products, you must assume I will receive compensation for doing so. However, I only recommend products and services I myself use or believe in and would recommend to my own sisters and mother. Nevertheless, you should perform your own due diligence before purchasing a product or service mentioned in this website.