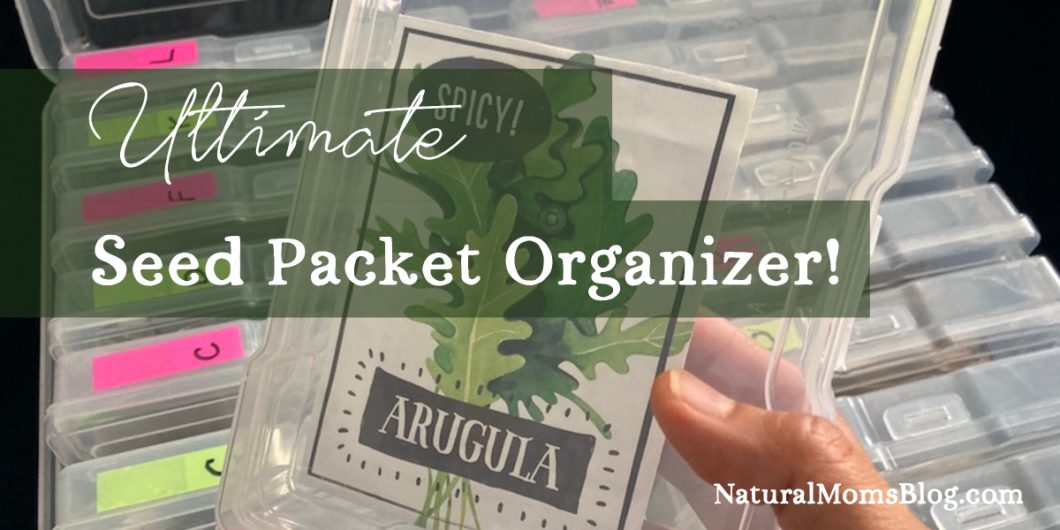 One of the dangers of growing plants in the Tower Garden is that you're going to want to grow All. The. Things.
And soon, you'll find yourself buying. All. The. Seeds.
You'll find yourself accumulating and juggling and struggling to organize all those seed packets. You'll be wondering how to organize seeds conveniently.
Maybe at first, you simply placed them in a drawer.
Then, in a Ziploc bag stuffed into a corner of the cupboard.
And then, maybe a shoebox.
Eventually, even that will no longer be enough.
You want something that will keep your seeds:
… and your seed storage also needs to allow you to easily and quickly find the seeds you want when you want them.
I tell you, the struggle is real.
Seed Organizing Fail
When I knew my seed collection was only going to get bigger, I began to seriously look at the options available.
The first thing I tried was a photo album, you know, those little notebooks with plastic sleeves for printed photographs.
I had seen a gardener on YouTube using one, and her system seemed to be effective.
Mine, however, was far from satisfactory.
After inserting more than half a dozen seed packets, it soon became apparent that I should've bought one with a spiral binding.
Because seed packets aren't completely flat, pretty soon, my "seed book" had become impossible to close.
There was also the danger of seed packets, and even seeds, falling out from the sleeve openings.
It became clear that I had outgrown this solution.
The Ultimate Seed Organizer
Fortunately, I saw a video by Miah of the Roots and Refuge Farm channel on YouTube. That's how I learned about this wonderful seed organizing solution:
This 4" x 6" Photo and Craft Keeper isn't actually a seed case; it's a case for photographs — you know, from back in the day when we actually printed photographs?
It has 16 individual cases and an outer briefcase-like container that holds everything together. It even has a folding handle, making it easy to transport your seeds.
Several standard-sized seed packets will fit inside each case. I estimate you can easily fit as many as 50 seed packets in one Craft Keeper.
What I Like About the Craft Keeper
There's plenty to like about keeping your seeds in a Craft Keeper:
It keeps your seeds nice and dry. It's not waterproof, but it'll keep your seeds dry better than a paper envelope.
It's lightweight and easy to move around. Pick it up by its handle and go.
It holds a ton of seed packets. My entire seed collection is inside my Craft Keeper and there's still plenty of room left for my next round of seed shopping for the 2021 growing season.
It protects your seeds from accidental spills. The layers of storage means you won't lose all your seeds even if some escape from their seed packet (tiny seeds are prone to this!).
It looks super neat. The white-on-white color scheme looks nice and clean. However, if you prefer a more colorful system, it does come in a multi-colored variation.
It lets you organize seeds your own way. For simplicity, I've organized my seeds by alphabetical order (of their common names, in English). I've seen others organize theirs by plant groups (brassicas, flowers, trees, etc.). It's flexible enough for a variety of organizing styles.
It's inexpensive. At under $30 and the prospect of getting years of use from it, the Craft Keeper offers good value for money.
With that said, no tool is perfect, and that goes for the Craft Keeper, too.
What I Don't Love About the Craft Keeper as a Seed Organizer
The quality could be better. The Craft Keeper's price point shows in the details. The locks of the individual cases, for example, can be a bit fiddly to open and close. It's not a deal breaker, but can get annoying.
The stickers are just plain wrong. My Craft Keeper comes with a set of sticker labels. However, they're supposed to go on the front of each case, not on the spine where they would be easier for me to see even with the Craft Keeper closed. For this reason, most users make their own labels.
It's bulky. The outer case is about 12 x 15 x 5 inches — quite large. You'll need a roomy space for it.
Still, despite these shortcomings, I still consider the Craft Keeper the ultimate seed packet organizer.
How do you organize your seeds? Are you satisfied with what you're currently using? Or does the Craft Keeper sound like a better alternative?
You can grow root crops and tubers like sweet potatoes in your Tower Garden if you grow them for the green, leafy tops.
---
If you liked this post, submit your email address below to get new posts by email:
Disclaimer:
This website is not a substitute for consultation with your health care giver. You should not use any of the exercises or treatments mentioned in this website, without clearance from your physician or health care provider.
Disclosure:
When I mention products, you must assume I will receive compensation for doing so. However, I only recommend products and services I myself use or believe in and would recommend to my own sisters and mother. Nevertheless, you should perform your own due diligence before purchasing a product or service mentioned in this website.