The very first gluten-free, vegan baking cookbook I ever bought was Erin McKenna's Babycakes: Vegan, (Mostly) Gluten-Free and (Mostly) Sugar-Free Recipes from New York's Most Talked-About Bakery. With a cover like this, can you blame me?
I went home excited to bake for my food-allergic son. But a quick look at the reviews on Amazon.com made my heart sank. Did I make a huge mistake by getting seduced by the glossy pictures in this pretty cookbook? Well, there was only one way to find out.
My Baking Results
Below are the recipes I've tried so far and the results I got:
Banana Bread/Banana Chocolate Chip Bread
I made these into bread and mini-muffins: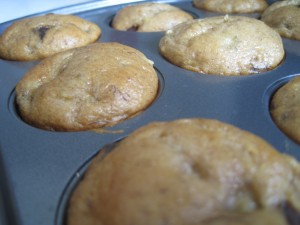 The mini-muffins (above) were excellent. Sweet, moist, yummy and tasty. The bread, however, was a flop: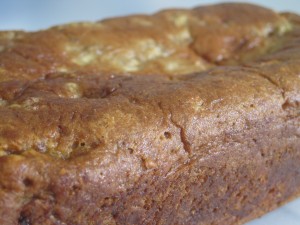 See how it sank in the middle? It's actually uncooked inside! This exact same thing has happened to me before, with a regular banana bread recipe, so I don't think it's the Babycakes recipe's fault. I attribute it to the:
varying amounts of moisture in bananas
tendency of dark baking pans to cook the outsides of the baked good too fast, leaving the middle uncooked
I have since bought an aluminum loaf pan and an instant-read thermometer so I have better chances of having banana bread turn out. Also remember to only half-fill your loaf pan with the batter. For most gluten-free, vegan baking, smaller baking pans give better results.
Apple-Cinnamon Toastie
I admit, I made this for myself, not DS. I made so many mistakes making this that I was ready for a big, fat failure. However, despite my mistakes, it turned out well. However, because you have to roast apples for this recipe and it's more complicated than others, I'm not likely to make this again.
Chocolate Chip Cookies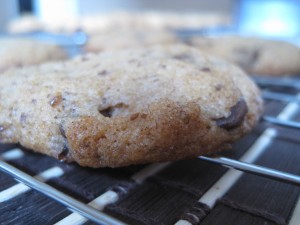 These were so good, I had no problems getting DS and his non-food allergic sisters to eat them. Yum!
Brownies
I baked these in a dark mini-muffin pan, before I knew the proper way to use dark pans. Yet I got good and yummy results. I had to tell the girls to lay off and leave enough for their brother.
Blondies
Another success! I didn't know what garbanzo-fava bean flour was, so I used plain chickpea flour. None of us noticed or minded the bean taste, and I'm happy that we're all getting healthy protein while eating our sweets.
By now I'm wondering what all the negative reviews were all about. And then I moved on to the…
Vanilla Cupcakes with Vanilla Frosting
These turned out awful: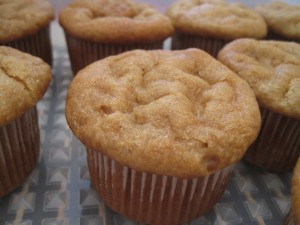 The texture was gummy and the taste was not good. The gluten-free, vegan vanilla cupcakes from Vegan Cupcakes Take Over the World had a much better texture and taste (more on that in a future post).
For the vanilla frosting, I followed the recipe posted on the Martha Stewart website (from when the author was featured on the show). The online recipe is different from the one in the book and, after reading all the complaints on Amazon, I figure the one on the site must be the right one.
While I did get the consistency right, the taste was plain off. It was not sweet enough for frosting. I tried adding some agave nectar but then it was a sickly sweet. Too bad! I spent a fortune on coconut oil, only to throw away all the frosting 🙁
So, in summary…
The Good
Most of the goodies I baked from this cookbook were really good.
I like the use of bean flours, coconut oil, applesauce and flax seed meal in sweets. These ingredients make them healthier.
The author doesn"t mention it, but you can use canola oil instead of coconut oil, except for the frostings.
I couldn't use any of the muffin, biscuit, scone recipes and some of the cake recipes because they use spelt flour, which does contain gluten, which my DS is allergic to.
While some people complain of the taste from bean flours, my children did not notice it at all (just don't let them eat the raw batter). Erin knows how to mask this with vanilla extract and other flavorings.
None of the recipes use egg replacer or non-dairy shortening.
The Bad
Erin uses a lot of refined coconut oil which, while healthy, is a lot more expensive than other oils.
The cupcake and frosting recipes were a bust.
Most of the cake recipes make two- or three-layer cakes, which is too much of a commitment for me. If they fail, I would've wasted tons of money on ingredients.
Some recipes call for you to make other recipes first. For example, for the double-chocolate crumb cake, you als ohave to make the chocolate crumb base (made up of crumbled chocolate cupcakes) and chocolate sauce.
A lot of the recipes use Bob's Red Mill Gluten-Free Flour, which is made of barbanzo bean flour, potato starch, tapioca flour, white sorghum flour, fava bean flour. This may not be accessible to you, or it may be too expensive. I've found a generic product in my local Bulk Barn with the exact same ingredients and I use that instead.
These baked goods don't last long. After one day, they get extremely moist and sometimes even oily. I don't know if it would be the same if I had used coconut oil instead of canola oil. Just remember to eat these right away as they won't keep for long.
The Bottom Line
Despite all the hate that's been published about this cookbook, it's a good reference if you want to bake delicious good that are free of gluten and animal products, and doesn't use the usual substitutes such as Ener-G egg replace or Earth Balance shortening. However, don't expect to recreate the award-winning Babycakes Bakery cupcakes in your own kitchen. Apparently, that's a closely-guarded secret and McKenna doesn't spill the beans in this cookbook. Neither does she give us a satisfactory alternative.
To ensure your success, read the author's instructions and advice in the beginning of the book. Also look at my tips for successful gluten-free vegan baking.
Click here to order your copy of Erin McKenna's Babycakes cookbook.
Have you tried this cookbook? What results did you get from it? Let me know in the comments below.
---
If you liked this post, submit your email address below to get new posts by email:
Disclaimer:
This website is not a substitute for consultation with your health care giver. You should not use any of the exercises or treatments mentioned in this website, without clearance from your physician or health care provider.
Disclosure:
When I mention products, you must assume I will receive compensation for doing so. However, I only recommend products and services I myself use or believe in and would recommend to my own sisters and mother. Nevertheless, you should perform your own due diligence before purchasing a product or service mentioned in this website.