How do you keep your oven door clean and clear?
This problem has plagued me since I made oven baked fried chicken in a cast-iron skillet. And because I don't use chemical-laden products, my options have been limited. Vinegar and baking soda are great for cleaning almost anything. But greasy oven doors with baked-in gunk? Not so good.
So for the longest time, I put up with an oven door so dirty, I couldn't clearly see what I was baking.
That is, until I discovered Universal Stone Cleaner.
I'm going to pause from typing now, because, as they say, a picture is worth a thousand words: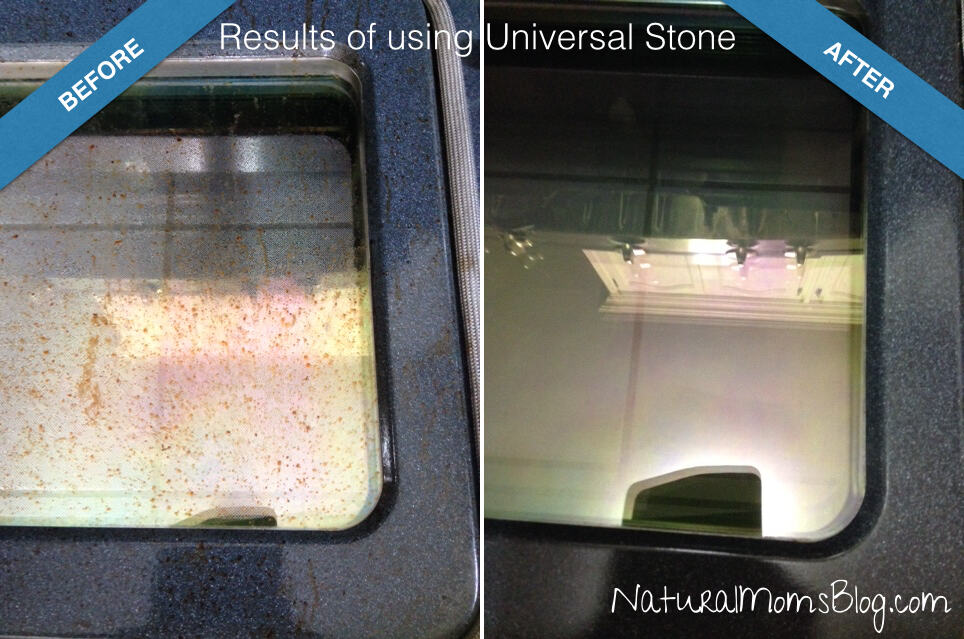 Tell me, are you able to get your oven door this clean?
If so, tell us how you do it without harsh chemicals. If not, let me tell you more about Universal Stone.
Universal Stone is an eco-friendly, biodegradable cleaner and polisher. It isn't actually a stone; it's more of a cake you moisten to use.
The ingredients listed are:
earth/polishing clay
glycerin
green soap
soap flakes
vegetable oils
perfume oils
This list of ingredients doesn't exactly convince me that this is an all-natural product. I mean, what exactly is "green soap" anyway? And "perfume oils" could be synthetic for all we know.
But, according to the Universal Stone website, the Switzerland Federal Environment Office has categorized universal stone as "free of toxins." It's scientifically proven to be biodegradable. And it has been tested and found to be safe for people with allergies and asthma.
I'm going to take all this as proof that Universal Stone is a non-toxic cleaner. Of course, you should do your own due diligence and examine it further, especially if you or your family members have allergies and sensitivities.
I've now bought two Universal Stone Cleaners, one for the kitchen and one for the bathroom. I've found it to be great for cleaning and polishing:
oven door
countertops
the top of my stove
stainless steel sinks, appliances, pots, and pans
floor tiles
bathroom sink
chrome fixtures
tub
Universal Stone leaves these surfaces clean and sparkling.
Disclosure: To get my oven door sparkling clean, hubby helped me scrub it, and we used the green scrubber side of a kitchen sponge instead of the foam sponge that comes with the Universal Stone. Still, it was the most effective cleaner/polisher I've ever used on my oven door.
Pros:
it works
non-toxic – no need to hide from your children
biodegradable
no chemical ingredients
has no perfume smells (although perfume oils are in the ingredients)
lasts long
works on a variety of surfaces
indefinite shelf life; doesn't spoil or become expired
Cons
expensive for a household cleaner
dries out my hands, so I use gloves
Check it out and read reviews of Universal Stone Cleaner:
Bottom Line
If you're tired of non-toxic, all-natural products that are safe but don't clean effectively, then give Universal Stone a try. It requires an investment initially, but since it lasts long and can be used on different surfaces inside and outside the house, it may prove to be economical in the long run.
What do you use to clean your oven door? Are you happy with it? Do share!
---
If you liked this post, submit your email address below to get new posts by email:
Disclaimer:
This website is not a substitute for consultation with your health care giver. You should not use any of the exercises or treatments mentioned in this website, without clearance from your physician or health care provider.
Disclosure:
When I mention products, you must assume I will receive compensation for doing so. However, I only recommend products and services I myself use or believe in and would recommend to my own sisters and mother. Nevertheless, you should perform your own due diligence before purchasing a product or service mentioned in this website.