I must be getting a reputation as someone interested in natural acne solutions, because a representative from the Rena Levi company contacted me about reviewing their products.
In this post, I'm going to tell you about my experience with the Rena Levi Vanishing Act soap and Amazing Scrub. I received samples for free to try out: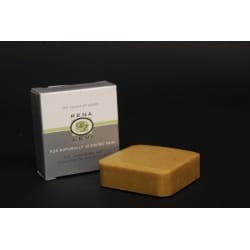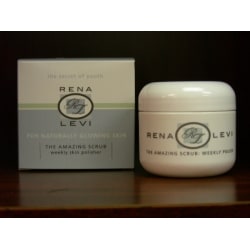 According to the product information I received, the Vanishing Act soap is supposed to be much more than soap. Aside from cleansing, it also tones, exfoliates balances, and renews. This makes it very attractive to people like me who don't want a five-step skin care ritual. I wash and moisturize — that's it!
I used the soap for about one month and the scrub once during that time (since you're supposed to use it only once a month), and here are the results I got.
The Good
The soap has a natural, earthy scent. It's not artificially perfumed, which is a big plus to me since I'm sensitive to perfumes. However, if you like your skincare products to smell "pretty," then this soap might smell too natural for you (if there's such a thing, LOL!).
The soap didn't dry out my skin. I'm usually leery of using soaps, because I learned many years ago that soaps are too harsh for facial skin. However, I found this soap to be quite gentle. I don't have sensitive skin, but products that are too harsh can make my cheeks dry. This one didn't.
The soap lasts long. Confession: I don't have a proper soap dish (reason being I don't use soaps on either my face or body, so no soap dish). But despite that, the soap didn't melt fast. I didn't finish the small sample soap during the entire four weeks of trying it.
The Bad
The scrub is pretty powerful stuff! It felt like a thousand tiny pieces of glass on my skin. Needless to say, I tried to wash it off immediately. It felt like I would cut my skin if I rubbed or splashed my skin. I had to rinse it off very carefully. I'm not sure if this means the scrub is really effective, but I wonder if others who use it feel the same way?
The soap and scrub didn't control my acne. Three weeks after I started using the Vanishing Act soap and Amazing Scrub, my chin started breaking out. I developed deep, cystic acne, which didn't progress when I stopped using the soap 🙁
The products are quite expensive compared to other soaps and scrubs, and they may not be readily available depending on where you live.
The Bottom Line
Rena Levi Vanishing Act soap and Amazing Scrub provide cleansing and exfoliating without AHAs, retinols or acids. The company has enough testimonials to make me believe their products do work for some. However, as with any skincare product, they don't work for everyone's skin.
Click here to find out more about the Rena Levi skincare products.
---
If you liked this post, submit your email address below to get new posts by email:
Disclaimer:
This website is not a substitute for consultation with your health care giver. You should not use any of the exercises or treatments mentioned in this website, without clearance from your physician or health care provider.
Disclosure:
When I mention products, you must assume I will receive compensation for doing so. However, I only recommend products and services I myself use or believe in and would recommend to my own sisters and mother. Nevertheless, you should perform your own due diligence before purchasing a product or service mentioned in this website.