My DS developed a fascination for Angry Birds over summer and requested an Angry Birds themed cake for this fifth birthday.
I thought that would be fun, so I'd been planning his cake for weeks. This is how it finally turned out: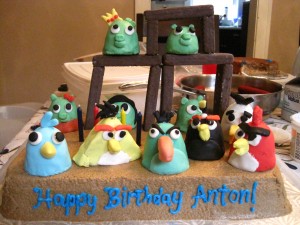 DS has eczema triggered by certain foods, so everything on this cake is gluten-free, wheat-free, egg-free, dairy-free, and nut-free.
Elements of This Gluten-Free, Vegan Angry Birds Cake
The birthday cake itself is a chocolate layer cake with sunflower buttercream filling and frosting. Both recipes are from Cybele Pascal's "The Allergen-Free Baker's Handbook."
This cake is so delicious, I arrived home on Friday to find my sister-in-law had eaten almost all the cake scraps!
It's a very dense chocolate cake, which is perfect for supporting the weight of the pigs' shelter.
The cake toppers are brownie pops baked in Wilton brownie pop molds: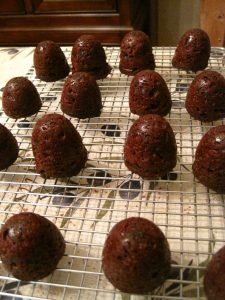 I first used Cybele's fudge brownie recipe, but found out too late that the brownie pop molds work better with cakey, not fudgey, brownies. So I baked another batch of brownie pops, this time using the Oh Joe's Brownies recipe from "The 100 Best Vegan Baking Recipes" by Kris Holechek. Kris' recipe isn't gluten-free, so I substituted a gluten-free flour mix for the wheat flour called for in the recipe.
(It was a lot of work, but nobody minded that we had two batches of brownies! They taste sooo good! We all happily snacked on the leftover brownie pops. Both recipes are outstanding; you won't be able to stop at one brownie at all.)
Next, I covered the brownie pops with homemade marshmallow fondant. I found the recipe here. You will find dozens of similar recipes for marshmallow fondant, but I like this, because it uses vanilla and almond extracts. These help cut the sweetness of the fondant. I also watched these videos a lot, just for motivation and inspiration — and to see the correct texture and consistency of the fondant.
My 10-year-old daughter helped to add the features of the pigs and birds. They turned out to be pretty charming, don't you think?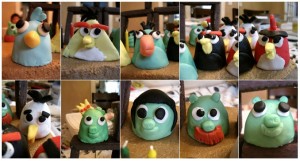 Finally, I used Glutino Dark Chocolate Wafers for the pigs' shelter.
No, I didn't forget the catapult. I never planned on including it on the cake. For one thing, DH and I decided early on that the cake would not be playable. We didn't want the cake toppers rolling around and falling on the floor during DS's party.
For another thing, I didn't know how to make it. The 10 yo tried to make one, but in the end, we couldn't pull it off. Besides, there was no room for it on the crowded cake.
All in all, the cake was a huge success.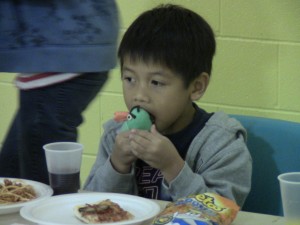 It was visually stunning and it tasted delicious — while being gluten-free, egg-free, dairy-free all at the same time!
---
If you liked this post, submit your email address below to get new posts by email:
Disclaimer:
This website is not a substitute for consultation with your health care giver. You should not use any of the exercises or treatments mentioned in this website, without clearance from your physician or health care provider.
Disclosure:
When I mention products, you must assume I will receive compensation for doing so. However, I only recommend products and services I myself use or believe in and would recommend to my own sisters and mother. Nevertheless, you should perform your own due diligence before purchasing a product or service mentioned in this website.