Ever since my DS was diagnosed with food allergies, we've been experimenting with various non-dairy "milks." The options are many and, if you're lactose intolerant or allergic to dairy, you needn't feel deprived.
In this post, I'm going to review two non-dairy alternatives from a company called Earth's Own: Ryza Whole Grain Brown Rice Milk and So Good Soy Milk Beverage.
Earth's Own gave me coupons to get these products free from my supermarket. However, this has not affected my review of the products. I will provide as much information I can to help you decide whether these products would be a good buy for you.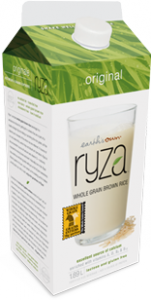 The Good
Unlike other rice milks, Ryza is made from whole grain brown rice. In fact, one glass of Ryza provides one full serving of whole grains. I haven't found any other rice milk brand that's made from brown rice.
So Good Soy Milk Beverage comes in several variants, from original (the one I tried), to fat-free, flavored with vanilla, chocolate or strawberry, and even DHA-enriched.
I've tried using both to substitute cow's milk in various recipes, including baked goods, and so far everything has worked out great.
Ryza is not sweetened, but is naturally sweet from the rice 🙂
Earth's Own is a Canadian company, so if you're Canadian, you may prefer to support this business than another one!
The Bad
While DS takes Ryza in his cereal, he will not drink either rice or soy milk alone, as he used to do with cow's milk. He will not drink ANY brand of rice or soy milk by itself, so this is not necessarily a negative on these particular brands.
Earth's Own is a Canadian company and yet there was I time when I couldn't find some of their products in the supermarkets near me. I'm not sure how easily you would find these products in stores where you shop.
The Bottom Line
If you can't or won't drink cow's milk, Ryza Whole Grain Brown Rice Milk and So Good Soy Milk Beverage are excellent, healthy options for you.
---
If you liked this post, submit your email address below to get new posts by email:
Disclaimer:
This website is not a substitute for consultation with your health care giver. You should not use any of the exercises or treatments mentioned in this website, without clearance from your physician or health care provider.
Disclosure:
When I mention products, you must assume I will receive compensation for doing so. However, I only recommend products and services I myself use or believe in and would recommend to my own sisters and mother. Nevertheless, you should perform your own due diligence before purchasing a product or service mentioned in this website.