What's the appeal of marble cake? Visually, the swirls of chocolate ribbons intermingling with the rest of the yellow cake are interesting and fun. In terms of taste, marble cake is not overly sweet. It's chocolatey but not overpowering. My kids and hubby love marble cake, which we often buy from Costco. But I've decided to save money and feed them healthier snacks by making my own, this time vegan but still delicious.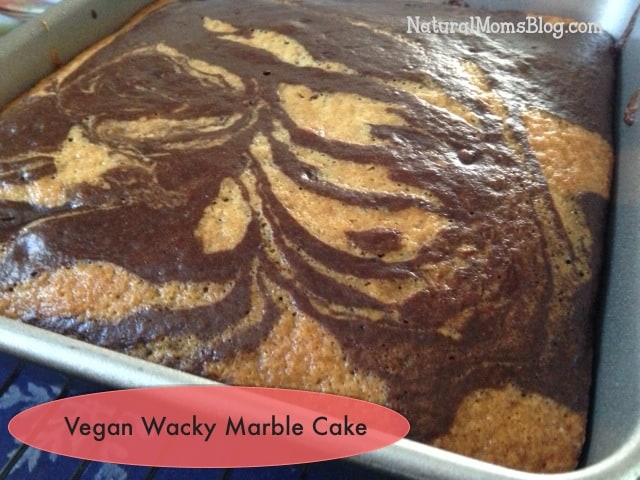 Below is my own version of vegan wacky marble cake, adapted from Piece of Cake!: One-Bowl, No-Fuss, From-Scratch Cakes by Camilla Saulsbury:
Preheat oven to 350F
Spray an 8- or 9-inch square metal baking pan with cooking spray (Cuisinart baking pans are my favorite). Set aside.
In a large bowl, stir together:
1 1/2 cups unbleached all-purpose flour
1 cup granulated sugar
1 tsp baking soda
1/2 tsp salt
In a glass measuring cup, mix together:
1 cup non-dairy milk
1/2 cup vegetable oil
1 Tablespoon vanilla extract
1 Tablespoon apple cider vinegar
Make a well in the center of the dry ingredients. Pour the wet ingredients into the well. Blend together with a wire whisk. Do not over-mix, or your cake will become tough. Whisk only until the ingredients are mixed. Using a spatula, scrape the sides and bottom of the bowl.
Using a large spoon or ice cream scoop, put globs of batter all over the baking pan, leaving spaces in between. Leave roughly half of the batter in the bowl.
To the remaining half of the batter, add:
3 Tablespoons unsweetened cocoa powder
1 Tablespoon non-dairy milk
Stir together until blended, but do not over-mix. Put globs of the chocolate batter in the spaces between the yellow batter in the pan. Take a knife and swirl the chocolate and vanilla batters together gently. Don't overdo it!
Bake for 20-24 minutes, until the sides of the cake begin to pull away from the pan, and a toothpick inserted in the center of the cake comes out clean.
Let the cake cool in the pan on a cooling rack. Slice and enjoy! This marble cake is fluffy and moist. My son immediate ate 3 slices: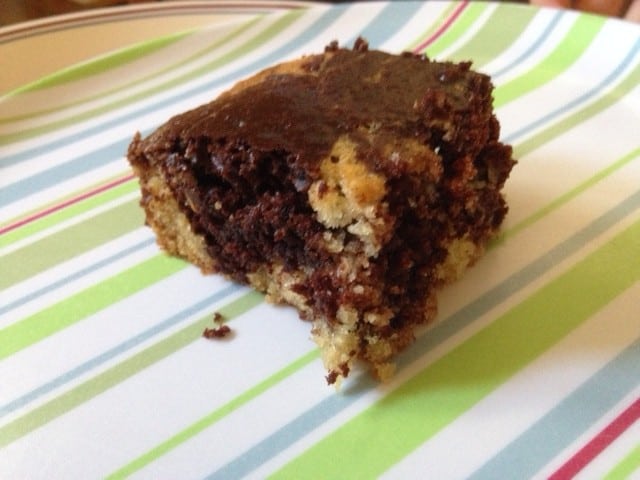 PS: If you try this recipe, do let me know how it goes!
---
If you liked this post, submit your email address below to get new posts by email:
Disclaimer:
This website is not a substitute for consultation with your health care giver. You should not use any of the exercises or treatments mentioned in this website, without clearance from your physician or health care provider.
Disclosure:
When I mention products, you must assume I will receive compensation for doing so. However, I only recommend products and services I myself use or believe in and would recommend to my own sisters and mother. Nevertheless, you should perform your own due diligence before purchasing a product or service mentioned in this website.