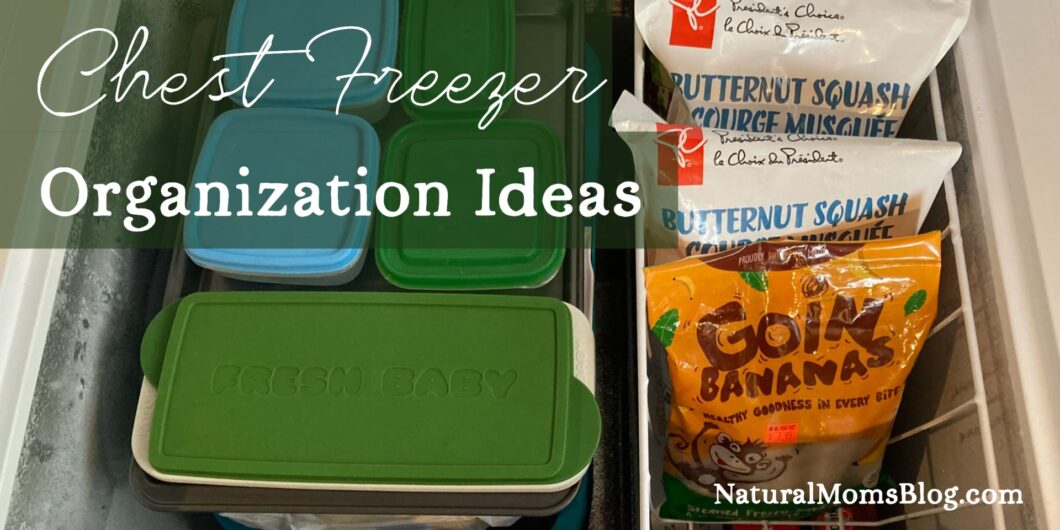 I gave in to the temptation and bought an extra freezer. Naturally, my next obsession is to get chest freezer organization ideas. After watching over a dozen YouTube videos and reading an equal number of blog posts, I came up with my own answer to the question, "What is the best way to organize a chest freezer?"
As a background, I purchased a very small 5 cubic foot chest freezer.
I thought long and hard between this and a 7 cubic foot chest freezer. It had a unique and pretty granite finish, four baskets, and a door lock.
But in the end, practicality prevailed.
Hubby and I will be empty nesters in a couple of years. Besides, the Frigidaire 5 cu ft chest freezer cost less than half the bigger freezer.
Reasons to Organize a Compact Chest Freezer
Even a small chest freezer needs some organization. My goals for organizing mine were to:
make it easy for me and my family to find things. The worst thing that could happen is for us to forget what's in the freezer ... which means we won't use it, it will go bad, and then we'd have to chuck it. That would be a waste, and I hate wasting stuff!
be able to reach any item in the freezer without taking my back out—or falling in. I'm petite, and I've got short arms and a bad back. And so, the idea of reaching into the chest freezer is daunting to me.
separate raw meats from ready-to-eat items. Food safety is important to me, and I'm especially grossed out when raw meats touch other food items.
have a visually-appealing freezer. Having a good-looking freezer isn't the most important thing. But you have to admit, an aesthetically pleasing home makes life so much more joyful.
Tell me, what are your goals for wanting to organize your freezer?
The Key Principle to Organize Any Chest Freezer
If you want to organize your chest freezer, whatever its size, there's one principle to follow: Divide it into smaller spaces.
The reason a chest freezer is so unmanageable is because it's one large space without any structure or framework. So if you use it as-is, you end up just throwing in anything and everything. Without structure, the items form a huge jumble ... which you then have to sort through to find what you need.
The solution, then, is to divide up that space into separate areas. Which begs the question: How do I make chest freezer dividers?
With containers, that's what!
Think of those packing cubes for your luggage. You pack your stuff into those separate cubes or containers. Then when you need a specific item, you don't have to unpack your entire bag. Just take out the cube and grab the item from there.
Same idea for your chest freezer!
The only thing is, since freezers come in so many different sizes, there isn't one set of containers that will work for every freezer. You'll have to work out which containers will fit in your freezer. And how you want to organize the items in your freezer. We'll get to the specific steps later.
For now, let's talk about the specific containers I chose for my own 5 cu ft chest freezer.
Containers to Divide a Chest Freezer
Below are the containers I used to divide and create separate compartments in my chest freezer:
1. Stackable Recycling/Storage Bins
I really have to thank YouTube for this idea. Stackable recycling bins are great for organizing your chest freezer because:
They fit even in a 5 cu ft chest freezer
They stack on top of each other
They've got handles that fold out of the way when you don't need them
They're roomy enough for my freezer meals to lay flat and packages of bulk meat
Now, you could use ordinary stackable recycling bins like the ones you see on YouTube. But I actually purchased these more expensive stackable bins from Good Natured. And that's because:
They're made from 90% plant-based material (aka "bio-plastic) free of BPAs, phthalates and other toxic chemicals.
They're pretty. They don't have the recycling logo and come in a choice of three colors: graphite, turquoise, or raspberry. I would've loved the pink one, but it wasn't not available in Canada when I was shopping 🙁
I only had enough room for two of these bins, stacked. If you have a larger freezer, you may need four or more.
2. Wire Baskets
Chest freezers already come with wire baskets that slide across the width of the freezer. Mine came with one. You'll probably want to add more wire baskets, like I did. Wire baskets are great because they add structure without blocking the air flow of your freezer.
You can purchase additional wire baskets that hook up to the edges of the chest freezer. That way, they can hang in place and slide out of the way. Here's an example:
Unfortunately, these are soooo expensive in Canada. And besides, with my stackable bins in place, I don't have room to add another wire basket to the top of my chest freezer. I did, however, have space above the little "shelf" on the bottom of the freezer. This space measures 7 inches wide, 16.7 inches deep, and 12.5 inches high.
That makes for a long, narrow, tall, and unstructured space where a lot of things can go wrong. For example, since the left side of it is wide open, it's likely for stuff to fall off and into the main area of the freezer. To avoid that, I decided to place a long and narrow wire basket on this shelf.
And I found this:
I love that I was able to find such a perfectly-sized wire basket for that space! This comes in different colours, and I picked the white one to match the wire basket that came with my freezer. As you can see, it worked out great!
This is to give me a flat surface to freeze my freezer meals before they go into the stackable bins. Freezing them flat first gives me the option to store them sideways, like books. That would make it much easier to find the particular freezer meal I want, compared to if I had them stacked on top of each other.
And that, my friend, is how I organized my 5 cu ft chest freezer with only four items! What do you think?
How Do I Organize My Freezer Like a Pro?
While going through the process of organizing my chest freezer, I made a number of mistakes. I'm sharing them with you so you can avoid making the same ones. And hopefully, your own chest organization experience will go more smoothly.
Lesson 1. Measure, measure, measure
"Measure twice, cut once."

That's a rule I learned as a sewer, and it applies to organizing your chest freezer, too. Or any space for that matter. Measure at least twice to make sure you get it right. That way, you're less likely to have to do over. When organizing a freezer, it can be expensive to have to buy a different container because the one you bought doesn't fit.
Measure your freezer's:
outer dimensions, so you can be sure that you have enough space for it. Take note that manufacturers require several inches of clearance between the freezer and the adjacent wall. In our case, we needed at least 4 inches.
inner dimensions. This is the size of the space you'll be working with. Freezers usually have a bumped out area where the freezer's compressor is. That's the "shelf" I mentioned above. Remember to measure that, too.
baskets. Don't forget to measure the size of the baskets that came with your freezer.
When you're absolutely sure of your freezer's measurements, look for the right-sized containers.
Lesson 2. Don't rely on published measurements.
Whether you're buying in-person or online, don't rely on the measurements posted on a website or catalogue. Even manufacturers can get this wrong or have typos!
Bring a tape measure to the store. Take note of the measurements on your phone or in a notebook. The inner dimensions will not be posted anywhere, from my experience, so you'll have to measure these yourself.
If shopping online, double-check the measurements. The ones listed may be wrong. For example, the photo for Good Natured Handy Tote Organizer says it's 13.5" across on top. In fact, it's not. It's only 10.7" wide on top. For this reason, I almost did not order this item, thinking it would fit too snugly in my freezer. Also take with a grain of salt the measurements reviewers post. When in doubt, ask the manufacturer.
Lesson 3. Do it your way.
You'll find as many ways to organize a freezer as there are freezer owners. Each one has a different style, personality, and budget. Figure out what will make YOU happy.
For example, beauty is important to me. That's why I splurged on plant-based bins when I could've bought cheap recycling bins. But that's me.
The IKEA bins other YouTubers recommend are also very beautiful. But I didn't buy them because their bottoms are too narrow for my freezer meals (which I freeze in either 11-inch FoodSaver bags or 10.5-inch-wide ZipLoc gallon freezer bags).
Before you buy any containers, sit and think:
What will you be storing in your freezer?
How often will you be opening your freezer and taking stuff out?
What would you find most annoying? Would you be ok with pulling out containers by grabbing their sides? Or would handles be much better?
What would you find most pleasing and enjoyable? Do you need containers that stack with each other? Or would you be happy enough just placing stuff on top of other stuff?
Can you use something you already own? Look at any unused containers you already have and see which ones you can use in your freezer.
With these product ideas and lessons in mind, I hope you've gotten plenty of chest freezer organization ideas. If you try any of my recommendations, do let me know how it goes. Send pictures!
---
If you liked this post, submit your email address below to get new posts by email:
Disclaimer:
This website is not a substitute for consultation with your health care giver. You should not use any of the exercises or treatments mentioned in this website, without clearance from your physician or health care provider.
Disclosure:
When I mention products, you must assume I will receive compensation for doing so. However, I only recommend products and services I myself use or believe in and would recommend to my own sisters and mother. Nevertheless, you should perform your own due diligence before purchasing a product or service mentioned in this website.