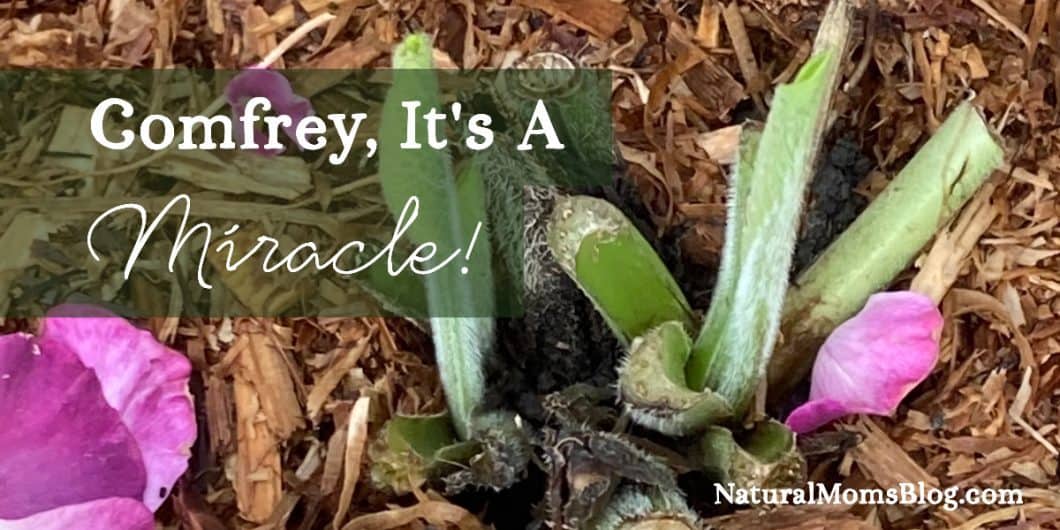 When folks say comfrey is a miracle plant, boy, they weren't kidding!
I received two comfrey cuttings — for free — from a member of our local gardening group.
From these two cuttings, I got 18 crown and root pieces to propagate, or potentially 18 new plants.
Propagate Comfrey from Crowns
Some of them I planted as crowns and others as mere pieces of roots, about 2 inches long.
Less than 24 hours later, I started seeing signs of new growth!
"Is it just my imagination?," I wondered.
So I waited.
And this morning, I checked again.
If you look closely, you'll see that there are at least two new leaves!
That's less than 72 hours after being planted in the ground!
"Miracle plant," indeed.
That was the largest crown I planted. I could've divided that into maybe 4 more plants.
I also planted smaller crowns. Some of those are showing new growth, too.
Propagate Comfrey from Root Cuttings
I also planted small pieces of roots into soil.
That's because a number of folks on YouTube said comfrey grows back, even from a little piece of root.
This is one of the videos I watched that inspired me to squeeze as many new plants as I can out of the cuttings I received:
Naturally, small pieces of root will take longer to grow than the crowns.
So far, nothing seems to be happening yet ....
You might be wondering why these comfrey cuttings are in pots and not in the ground.
Well that's because I don't know yet where I'm going to plant them.
How to Propagate Comfrey: Gardeners Beware!
Comfrey is so tough that, when you plant it in soil, you better be 100% sure you want it there ... because it's going to stay there pretty much permanently.
Why, you wonder?
Well, consider this:
Comfrey's roots go down up to 3 meters deep.
And comfrey regrows even from small pieces of roots.
Ergo, even if you chopped off or dug up an entire plant, it will just regrow. In fact, several plants will grow out of the crown and root pieces you just created by trying to uproot the plant.
Comfrey is pretty much indestructible!
So I'm still deciding exactly where I'm going to put these babies ... and preparing the ground (they're not delicate so not much needs to be done to "prep" the soil).
I'll update this post with pictures when I do find permanent homes for my many, many comfrey plants.
Comfrey is a miracle plant that grows easily from crown and root cuttings. Do try to grow it if you have an organic garden.
---
If you liked this post, submit your email address below to get new posts by email:
Disclaimer:
This website is not a substitute for consultation with your health care giver. You should not use any of the exercises or treatments mentioned in this website, without clearance from your physician or health care provider.
Disclosure:
When I mention products, you must assume I will receive compensation for doing so. However, I only recommend products and services I myself use or believe in and would recommend to my own sisters and mother. Nevertheless, you should perform your own due diligence before purchasing a product or service mentioned in this website.