It's annoying and embarrassing, and it's been giving me a lot of grief.
I'm talking about adult acne.
I hardly had any breakouts when I was a teenager, but sometime in my 20s, I my skin started breaking out.
I thought – everyone said – I'd have clear skin by the time I hit my 30s, but here I am, in my early 40s and still breaking out!
I've tried many things. The best thing, really, is to visit my dermatologist about every two months and use a bunch of chemicals on my skin.
But since moving to Canada, I haven't been to a dermatologist in years. Plus, I'd really like a gentler way to care for my skin.
Enter: The LaVigne Daily Essentials Clear Skin Solution.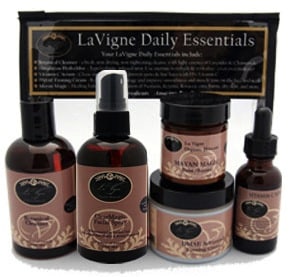 We've been happily using LaVigne's Mayan Magic Balm for my son's eczema, so when I discovered LaVigne has many other products, including a package for acne skin, I was excited to try it out.
Linda Zaumini, founder of LaVigne Organic Skincare, graciously gave me a complimentary set of their Clear Skin Solution, which is made up of:
Botanical Cleanser
Clear Magic Facial Spray
Vitamin C Serum
DMAE Firming Cream
Mayan Magic Balm
I used these products for several months, to get a clear picture of how they were affecting my skin. I tend to break out when I use something new, so I had to give my skin a few weeks to adjust.
In this post, I'll tell you what I liked and didn't like about these products, including why I'm now back to my chemical-laden acne-fighting products.
The Good:
The products are organic and free of parabens and other potentially toxic chemicals.
Unlike other acne products, these are GENTLE. No stinging, peeling or burning!
They're based on a plant-based ingredient, tepezcohuite, which comes from the bark of "skin tree" from Mexico. It's anti-microbial, anti-bacterial, and anti-fungal. You can read more about the healing properties of tepezcohuite here.
I especially loved using the vitamin C serum. I dunno, I just really believe vitamin C is good for our skins. And this one was particularly nice. Unfortunately, I left it behind in a hotel room during a recent trip. Tragic!
Each product comes with a 100% money-back guarantee.
The Bad:
The Clear Magic Facial Spray was not convenient in a spray form. I don't get why it needs to be a spray. I would have liked it better as a toner. Am I supposed to spray and then wait for it to dry up on my skin? Or should I spread it around on my face? Even though I work at home, I found this to be a bit tedious to use.
The DMAE Firming Cream is scented. I know, it's scented with essential oils (linden blossom essential oil, to be exact) and the fragrance is really very light… but still… I'm sensitive to all fragrance. Floral scents in general remind me of the creams and potions my old aunts used when I was a little girl. If you think this may be an issue for you, I suggest you go to the LaVigne retailer nearest you and give it a whiff. You may like the scent after all.
It didn't work for me. Maybe the products were too gentle. I felt they didn't get my skin clean enough, and I still broke out.
The Bottom Line:
If you have mild acne and want an organic, all-natural skin care regimen, then LaVigne Daily Essentials may be a good choice. Since each skin is unique, you can't tell if this will work for you or not until you try it. There's no risk, since LaVigne has a money-back guarantee.
I've gone back to using my Aqua Glycolic facial cleanser and toner, but continue to use the LaVigne DMAE Advanced Firming Cream around my eyes and the LaVigne Mayan Magic Balm on breakouts, hives and other skin problems.
Have you tried these or any other products by LaVigne? How did you like it?
---
If you liked this post, submit your email address below to get new posts by email:
Disclaimer:
This website is not a substitute for consultation with your health care giver. You should not use any of the exercises or treatments mentioned in this website, without clearance from your physician or health care provider.
Disclosure:
When I mention products, you must assume I will receive compensation for doing so. However, I only recommend products and services I myself use or believe in and would recommend to my own sisters and mother. Nevertheless, you should perform your own due diligence before purchasing a product or service mentioned in this website.