This is a long overdue review of wool dryer balls by the Willow Store.
But I've got a perfect excuse why this is late. Hear me out.
Around the time I received these balls to review, we were moving houses. In the midst of the chaos, the wool dryer balls got misplaced. Not only because we were moving, but also because they look like this: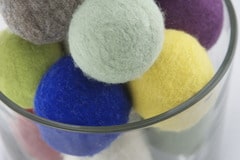 My dear Mom, bless her heart, thought they were toy balls and placed them in one of my son's toy bins.
See? I told you I had a good reason for this late review.
So what do I think of the Willow Store's wool dryer balls? Here you go:
The Good:
Made from 100% wool, a natural material
Soft, won't snag or poke your clothes
Last long. I've been using mine for four months and they're still going strong. This is what they look like today: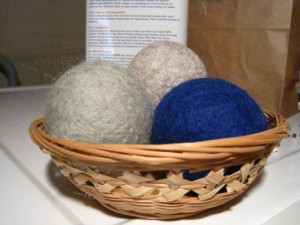 Replaces dryer sheets and fabric softeners, which can contain chemicals and annoying perfumes
Doesn't create waste, unlike dryer sheets you have to throw away after using
May shorten your drying time. This is what the makers claim, but I haven't been able to test it, because we had to buy a new dryer at the time we also started using the wool dryer balls.
The Bad:
A bit expensive. You'll make an initial investment, but since these last long, the actual cost in the long run may be just the same as or even less than plastic dryer balls (which get brittle and break after some time)
The Bottom Line:
Wool dryer balls are an excellent natural, non-toxic alternative to plastic dryer balls, dryer sheets or fabric softeners. They're a good addition to your eco-friendly laundry room.
These wool dryer balls are available at the Willow Store.
Also check out the eco-friendly laundry products at Amazon.com:
---
If you liked this post, submit your email address below to get new posts by email:
Disclaimer:
This website is not a substitute for consultation with your health care giver. You should not use any of the exercises or treatments mentioned in this website, without clearance from your physician or health care provider.
Disclosure:
When I mention products, you must assume I will receive compensation for doing so. However, I only recommend products and services I myself use or believe in and would recommend to my own sisters and mother. Nevertheless, you should perform your own due diligence before purchasing a product or service mentioned in this website.