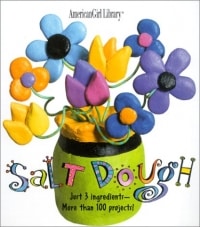 Salt dough is a great material to let your kids' imagination run wild. Kids love to mix, knead, sculpt, decorate and paint their pieces of art. Making salt dough is very easy and inexpensive. Everything you need can be found in your kitchen – flour, salt and water. To make it even more exciting, just add different food coloring to your dough.
This book will give you and your kids fantastic project ideas. It also tells you the recipes for the perfect salt dough and tips and tricks for better sculpting results, such as how to make seams disappear. Your kids will love to create photo frames to put their favorite picture in; make a little tea set to have a tea party with or knead little miniature figurines and animals.
Overall, I think that this book gives the right amount of exciting projects that'll keep your kids interested. The book is designed for children aged 9 to 12, but if you have younger ones, you might need (or want) to give them a bit of a helping hand. I am sure you'll enjoy it as well as they do. I would recommend this book to any crafty family eager to create little pieces of salt dough art. It would also make a fantastic gift for any youngster.
Click here to read other reviews and buy your copy of "Salt Dough: Just 3 Ingredients – More Than 100 Projects" by Laura Torres.
---
If you liked this post, submit your email address below to get new posts by email:
Disclaimer:
This website is not a substitute for consultation with your health care giver. You should not use any of the exercises or treatments mentioned in this website, without clearance from your physician or health care provider.
Disclosure:
When I mention products, you must assume I will receive compensation for doing so. However, I only recommend products and services I myself use or believe in and would recommend to my own sisters and mother. Nevertheless, you should perform your own due diligence before purchasing a product or service mentioned in this website.