We recently found out that my son's eczema was caused by food sensitivities. So I set out on a mission to find allergen-free recipes for his favorite foods, such as pizza and pastries. A big challenge for me was finding a recipe for bread that he liked. I've tried three gluten-free, dairy-free and egg-free recipes for breads and had to throw all of them away, because DS didn't like them (the squirrels are happy though).
Lisa Lundy, author of The Super Allergy Girl Cookbook; Gluten-free Casein-free Nut-free
kindly gave me a copy of her book to review. In this post, I'm going to show you what results I got with the first three recipes I've tried so far.
1. Banana Bread
I first tried the banana bread on page 195. The ingredients list wasn't very long, and you could use pretty much whatever gluten-free flours you had on hand. I like that it uses flax meal, which makes the banana bread healthier. Here's the result I got: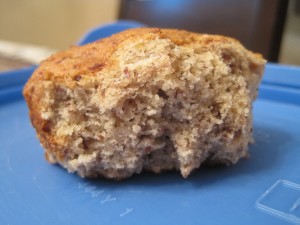 As you can see, the banana bread's texture is excellent; it's just like regular banana bread. However, I found it a bit dry and not at all sweet enough. BUT I suspect it was my fault, because:
I may have over-baked it.
You see, I used mini loaf pans instead of a 5″x9″ loaf pan. I know how difficult it can be to get a full-sized banana bread properly cooked, especially in the middle, even when using a regular recipe. So to increase my chances of having fully cooked banana bread, I decided to make them into mini loaves — which meant I didn't know how long to bake them.
I didn't use over-ripe bananas.
Not for the entire amount the recipe called for, anyway. I didn't have enough over-ripe bananas, so I used regular bananas for the rest of the required amount. This may have caused the lack of sweetness and moisture in my mini banana breads.
That said, the little boy just returned home from school and wolfed down two of these, so I'm done complaining.
2. Versatile Roll, Danish & Pizza Crust Mix
For my next adventure, I tried the multi-purpose recipe on page 180 of the book. Lisa mixes this by hand in her video, but I decided to use my stand mixer, because I just bought one and would like to use it as much as possible. I was worried, because there were small lumps of unmixed dry ingredients in my batter. I did my best to smoosh them with a spatula before baking.
The batter was enough to make 12 dinner rolls and three Danishes. The rolls rose beautifully in the oven: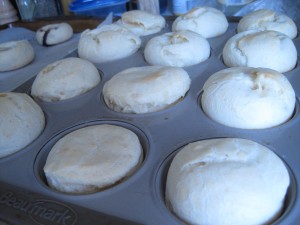 … but a few minutes after taking them out of the oven, this is what they looked like: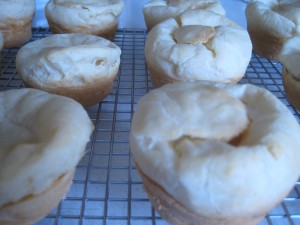 Nevertheless, the rolls were light and fluffy, although a little bit greasy and — again — not sweet enough for me.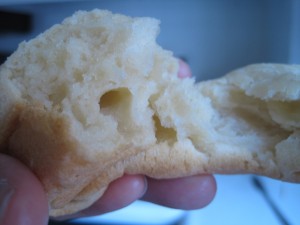 The next time I make these, I may replace part of the oil with maple syrup or agave nectar, especially if I'm making the Danish.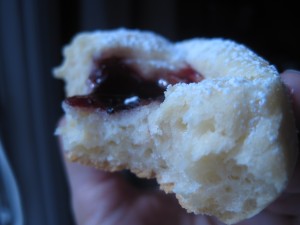 I enjoyed eating the Danish, by the way. Unfortunately, the little boy refused to taste it at all 🙁
And finally, today, I made…
3. Brownies
DS requested brownies in his lunch box, so I complied. I read in the Amazon reviews that both brownie recipes in Super Allergy Girl were good. I tried the Chocolate Brownies on page 311. I wasn't too confident about baking it in a 9″x13″ pan, but I'm not about to deviate from the recipe again.
My brownie never rose and the edges got a little bit burned: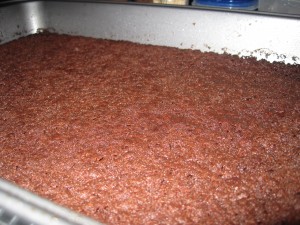 This smelled heavenly while baking, by the way. The end result was a fudgy, dense brownie. I prefer a cakier brownie, but it was delicious nevertheless.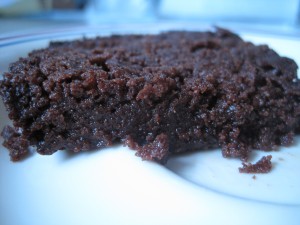 When this cooled, the brownie became hard and crumbly. I hope DS will still like it when he sees it in his lunch box tomorrow.
Super Allergy Girl Cookbook doesn't have pictures, and it's pricier than other cookbooks for gluten-free, dairy-free, egg-free and peanut-free foods. However, it's also full of information about food allergies. Thanks to this book, I finally understand the importance of a rotation diet.
I also appreciate that Super Allergy Girl Cookbook gives you options for a bean-based (using garfava flour) or rice-based recipes, which is a big help if you are following a rotation diet. DS's allergies aren't serious enough to warrant a rotation diet, but I still like to vary things a bit, just to make sure he isn't always eating just one gluten-free alternative. Other allergen-free cookbooks use only either bean-based or rice-based substitutes.
There are so many other recipes I'd like to try in this cookbook. I wish my son could eat them fast enough so I could keep baking! Stay tuned, because I'll definitely be posting my results here.
PROs:
Contains over 225 recipes for everything from breakfast to main dishes, salads and baked goods.
The recipes use different kinds of gluten-free flours rather than just one kind. This makes the recipes appropriate for rotation diets.
Most recipes are flexible. You can substitute other flours or sweeteners, depending on what you have on hand.
The author, Lisa Lundy, is accessible via email or on her website.
CONs:
Most of the baked goods recipes use Ener-G egg replacer. If you can't find it or a similar product, then you won't be able to make the majority of the baked recipes.
Beginners may find the flexibility of the recipes a disadvantage. For example, a recipe may say simply "2 cups gluten-free flour".
The bottom line: Super Allergy Girl Cookbook is an essential item on the bookshelf of every person or family who has food allergies.
---
If you liked this post, submit your email address below to get new posts by email:
Disclaimer:
This website is not a substitute for consultation with your health care giver. You should not use any of the exercises or treatments mentioned in this website, without clearance from your physician or health care provider.
Disclosure:
When I mention products, you must assume I will receive compensation for doing so. However, I only recommend products and services I myself use or believe in and would recommend to my own sisters and mother. Nevertheless, you should perform your own due diligence before purchasing a product or service mentioned in this website.