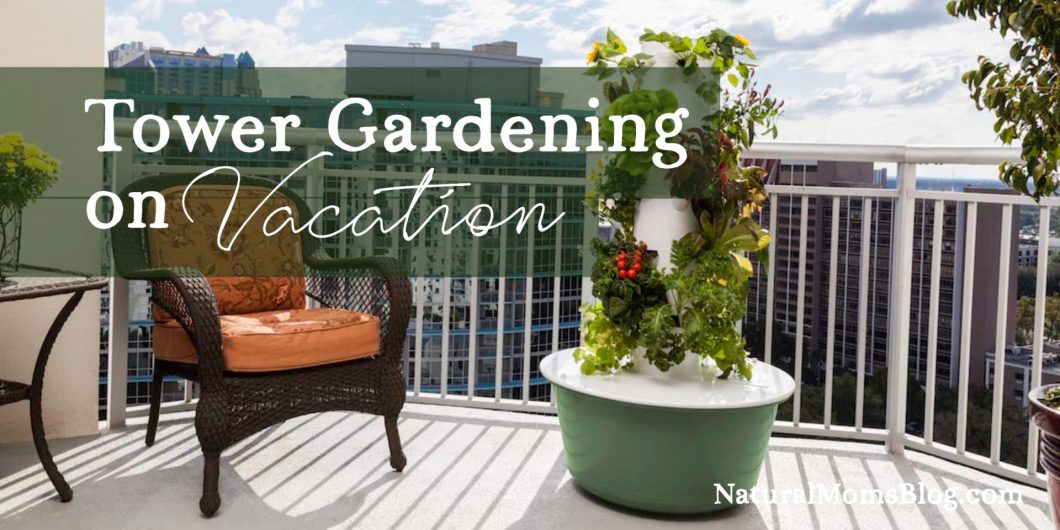 Gardening is like parenting.
Your plants rely on you to provide them nutrients, shelter, and protection from predators.
You can't just up and leave for a few days.
But going on vacation is much easier with the Tower Garden than with in-soil gardening.
With a little preparation, you can go on vacation confident that your Tower Garden plants will be perfectly fine in your absence.
Since the pump and lights are on timers, they'll switch on and off at the appointed times even when you're away.
You do have a few other things to take care of before you leave, to minimize any nasty surprises.
Water, Nutrients, and pH Level
Before you go on that vacation, make sure your Tower Garden has enough water and nutrients. If the water level is a little low, then top up.
And while you're at it, go ahead and check the pH level of the water. Ideally, it should fall within 5.5 to 6.5.
In other words, simply do the weekly/biweekly Tower Garden maintenance tasks you normally perform.
Harvest
Harvest and prune what you can from your plants. This ensures your plants have good air circulation and access to light while you're away.
It also encourages most plants to grow even faster — which means more for you to harvest when you get back.
Weather Protection
Check to see what the weather will be like while you're gone. If you have an outdoor Tower Garden and a storm or hurricane is coming, then protect it as well as you can. A few people on the forums suggest tying the Tower itself to the reservoir.
If necessary, move your Tower Garden to a sheltered space. Or anchor it onto a stable and sturdy object. The Tower Garden is heavy when the reservoir is full, and it's not easily toppled down. But nothing's impossible!
Same goes for heat waves.
Outdoors, move the Tower under a shaded area. Or place the Weather Protection Blanket over it before you leave.
Even plants in an indoor Tower Garden can suffer from heat stress if the Tower is right beside a window or glass doors. Cover the window or doors with a curtain or move the Tower to a temporary spot.
Power Supply Check
It doesn't hurt to check on the power supply for your Tower Garden's pump and lights. Just double-check that everything's in the right place and plugs are securely attached. This includes making sure the timers for the pump and Tower Garden LED indoor lights are correct.
Back-Up Human
The best preparation is to have someone you trust to check on your Tower Garden while you're away. If at all possible, arrange for someone to look into your Tower Garden every couple of days or so, just to make sure everything's okay.
On the other hand, if this is impossible, that's no biggie. Your Tower Garden will probably be okay 😀
With these simple preparations, you're all set to go with the peace of mind that you've done everything to keep your Tower Garden happy, healthy, and productive.
Now go and enjoy your vacation!

Your Tower Garden will keep running, providing water, nutrients, and light to your plants, even while you're away on vacation.
---
If you liked this post, submit your email address below to get new posts by email:
Disclaimer:
This website is not a substitute for consultation with your health care giver. You should not use any of the exercises or treatments mentioned in this website, without clearance from your physician or health care provider.
Disclosure:
When I mention products, you must assume I will receive compensation for doing so. However, I only recommend products and services I myself use or believe in and would recommend to my own sisters and mother. Nevertheless, you should perform your own due diligence before purchasing a product or service mentioned in this website.