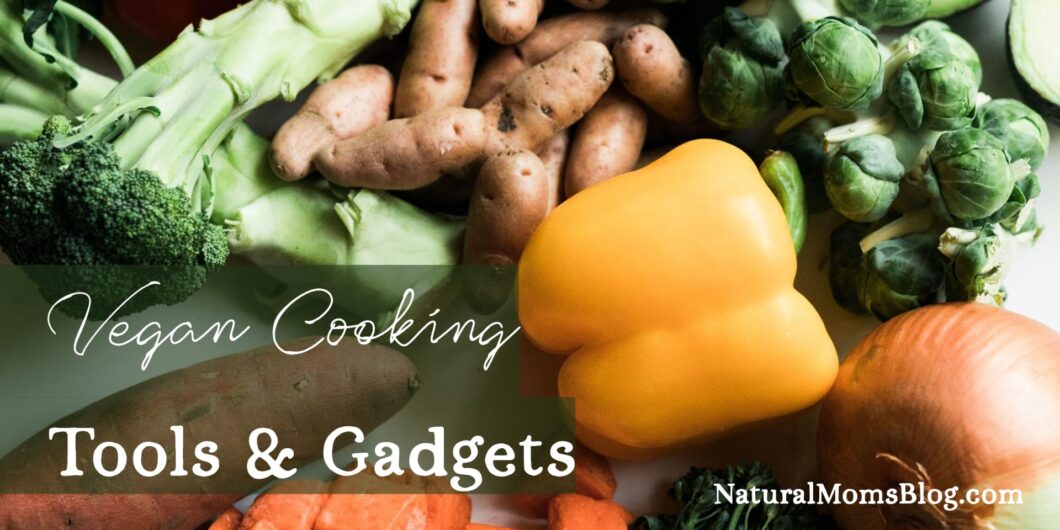 Vegan cooking and cooking whole-foods, plant-based recipes can be quite a change. And all the more so if you're trying to cook sugar-, oil-, and salt-free! But it's easier than you might expect. Below are the kitchen gadgets and tools that make vegan cooking so much easier. They are by no means absolutely necessary in order to cook delicious vegan or whole-foods, plant-based meals.
Instant Pot Max
Nothing beats the Instant Pot for cooking dried beans, sweet potatoes, potatoes, and other plant-based ingredients—fast! I chose the Instant Pot Max because of the pressure canning feature. But you can pick the model that works best for your needs.
Cosori Air Fryer
An Air Fryer comes in handy for quickly roasting tofu, eggplants, garlic, and other vegetables without firing up the oven. There are many brands available, but I chose the Cosori because of the square shape and large volume it can handle.
Non-stick Pan
A good non-stick pan is essential especially if you want to cook without oil. Choose one like the Paderno frying pan that's made with a stainless steel base and PFOA-free non-stick surface. It's beautiful enough to display outside the cupboard. Oh and did I mention it's made in Canada?
Food Processor
A generously sized and powerful food processor comes in handy if you want to make your own plant-based cheeses, sauces, and desserts. This is the size I wish I had bought!
Produce Storage Containers
Keep fresh produce fresh longer by storing them in containers build specifically for produce. This line of Tupperware containers has an adjustable vent that lets you control the airflow so each type of produce gets exactly the ventilation it needs.
Nutramilk
I had no desire to make my own plant-based milk—until I discovered the Nutramilk! Aside from being the easiest way to make milk from nuts, seeds, and grains, the Nutramilk keeps the whole ingredient in the milk, fiber and all! The Nutramilk can also replace your food processor and blender.
Freezer Meals Membership
How do I prepare two sets of meals—one vegan, one omnivore—without slaving away in the kitchen? With freezer meals, of course! And of all the freezer meal memberships I have, FreezerFit is my favourite, because it has the highest number of plant-based recipes, the website is super easy to use, and one flat payment gets you lifetime membership.
Manual Vegetable Chopper
Let's face it, preparing plant-based foods involves a lot of slicing, dicing, and chopping! Here's a chopper for both big and small jobs that doesn't require electricity. It'll do short work of chopping and dicing veggies, nuts, and seeds for sauteeing, sauces, salsa, garnishes.
Electric Vegetable Chopper & Immersion Blender
If you prefer to harness the power of electricity when chopping and blending your veggies, then I recommend the Cuisinart Immersion Blender with Mini Chopper. I've had mine for years and it's still holding up. I like being able to chop small amounts, such as garlic for sauteeing. At the same time, I can use the immersion blender to make my soups smooth and creamy.
Do you have questions about any of these vegan cooking tools and gadgets? Message me on Facebook or Instagram and I'll be happy to respond.
Vegan cooking (whole foods, plant-based cooking) doesn't have to be difficult. By learning a few techniques and using helpful tools, you can simplify the process and incorporate cooking from scratch into your busy life.
---
If you liked this post, submit your email address below to get new posts by email:
Disclaimer:
This website is not a substitute for consultation with your health care giver. You should not use any of the exercises or treatments mentioned in this website, without clearance from your physician or health care provider.
Disclosure:
When I mention products, you must assume I will receive compensation for doing so. However, I only recommend products and services I myself use or believe in and would recommend to my own sisters and mother. Nevertheless, you should perform your own due diligence before purchasing a product or service mentioned in this website.