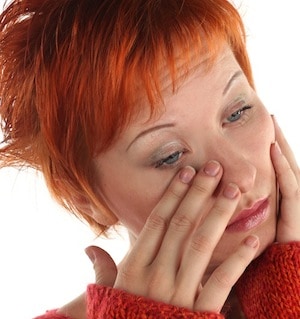 I'm not fond of mascara. It's hard to put on properly and even harder to take off. The worst part is getting teary, irritated eyes, and seeing my eyelashes fall off!
Is it possible to find a gentle, all-natural mascara  free of toxins and chemical dyes?
If such a mascara exists, where can I get the best deal on it?
Read on and you'll find the answers.

Meet 100% Pure Fruit Pigmented Mascara
100% Pure Fruit Pigmented Mascara is a unique mascara that's pigmented only from fruits and tea. It doesn't have synthetic or mineral-based dyes, irritating chemicals, or toxins. Most mascaras contain petroleum distillates, which are considered toxic and therefore banned in the European Union. (If you want to know more about toxins in makeup, get my free report here.)
While 100% Pure Fruit Pigmented mascara is all-natural and gentle, it also makes your eyelashes look longer, fuller, and glossier.
Because it's made from plant ingredients, it doesn't smell like chemicals. Instead, it smells like… berries! And the chocolate colored mascara smells like, you guessed it, chocolate!
100% Pure Fruit Pigmented Mascara has plenty going for it:
water and smudge resistant — no more raccoon eyes!

has eyelash conditioners in the form of ProVitamin B5, vitamin #, and oat and wheat protein, so your eyelashes actually get healthier the more you use it
available in four colors: black tea, blackberry, blueberry, and dark chocolate to let you create any look you want
safe even for sensitive eyes and contact lens wearers: no more watery, irritated eyes and puffy eyelids
Click here to read the full list of ingredients.
Review: What I Liked and Didn't Like
I have to admit. I used to buy mascara that promised to make me look like I'm wearing false eyelashes. But I never liked any of them.
They always made my eyelashes clump together. They smelled like plastic and chemicals, and made my eyes burn.
Taking the mascara off was always a big pain — a process requiring the use of expensive eye makeup remover and several cotton pads. I would always, always lose a few eyelashes.
In the end, my eyes would always be so irritated from wearing the mascara and then taking it all off. Is it any wonder I only used mascara on very special occasions?
I switched to 100% Pure Fruit Pigmented Mascara, because I wanted to avoid toxins, carcinogens, hormone disruptors, and allergens in products I use on my body. Ordinary mascaras have synthetic dyes, fragrance, and ingredients considered the "Dirty Dozen" in the cosmetics industry.
I wanted none of that. But I still wanted long, lush lashes.
When I first tried 100% Pure Fruit Pigmented mascara, I was impressed. It smells like berries. The brush is long, making application easier and faster.
I was most impressed by how this mascara makes my eyelashes look. With one coat, my eyelashes are longer and fuller, but still very natural looking. Definitely appropriate for a daily, work-at-home look.
With two coats, I look like a glamorous movie star — but without the clumping.
I've worn this mascara for 12 hours straight and it stayed put without smudging.

Taking it off is easy. I can wash it off with water and my face cleanser, but I prefer to use a makeup remover wipe, since I'm usually wearing eye makeup with the mascara. It comes off easily and none of my eyelashes fall off!
As an added plus, I know my eyelashes are getting a special treatment from all the antioxidants and other nutrients in this mascara.
If there's anything I don't like about this mascara, it's that it tends to dry out more quickly than regular mascara. But a drop of distilled water quickly fixes it.
The unusual brush shape also takes some getting used to. It's long and the bristles are contoured in the middle. Once you get used to it, though, applying the mascara is actually faster, because of its length.
Where to Buy
If you want to try 100% Pure Fruit Pigmented mascara, you can get 20% off your first order. Shop at my Alex+Von online store and use the code, NEWCUST20OFF at check out.
You can also buy it at Amazon.com:
PS: Want to earn money from home promoting great products like 100% Pure mascara? Join my Alex+Von team, and I'll help you get started and succeed. You'll also have wonderful companies and a group of supportive ladies to behind you. Click here for more information.
Image © Ta_samaya | Dreamstime Stock Photos & Stock Free Images
---
If you liked this post, submit your email address below to get new posts by email:
Disclaimer:
This website is not a substitute for consultation with your health care giver. You should not use any of the exercises or treatments mentioned in this website, without clearance from your physician or health care provider.
Disclosure:
When I mention products, you must assume I will receive compensation for doing so. However, I only recommend products and services I myself use or believe in and would recommend to my own sisters and mother. Nevertheless, you should perform your own due diligence before purchasing a product or service mentioned in this website.