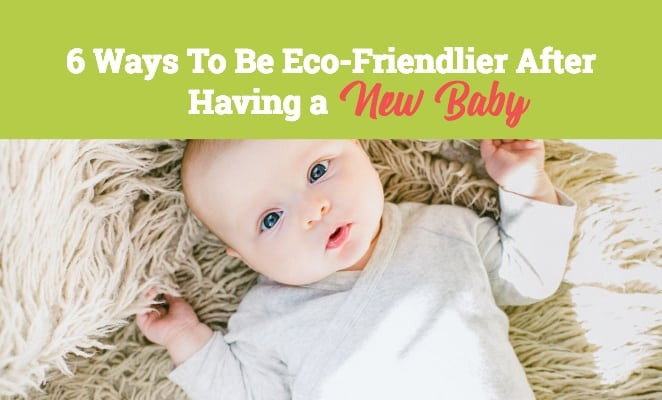 Following is a guest post contributed to this blog:
Dirty diapers… baby food containers… mounds of laundry… is it possible to have a new baby and still be eco-friendly?
While new babies can make it tough for families to lower their carbon footprint, there are plenty of ways new parents can opt for an eco-friendly lifestyle, even with their new arrival.
Here are six ways you can make greener choices when your new baby is born.
1. Cloth Diapers
To start with, stay away from disposable diapers.
Approximately 20 billion disposable diapers are trashed in landfills every year, and every new baby born increases the amount of waste being put into the ground.
An alternative to disposables is to use cloth diapers. Today, cloth diapers have come a long way. They are more absorbent and convenient, and they can be washed at home without a pricey diaper service.
Here's an example of a one-size-fits-all cloth diaper available at Amazon:
2. Breastfeeding
Next, choose to breastfeed your new baby instead of formula feeding.
Women who breastfeed saving money on the cost of expensive infant formula, feeding bottles, and sterilization for the first year of life. Breastfeeding also helps eliminate another source of plastic packaging that you would get from the formula company.
Even before your little one arrives, get help from a lactation consultant so you can be more confident in your breastfeeding technique. Over time, it will get easier, your bond with your baby will thrive, and you'll enjoy the other benefits of breastfeeding.
3. Table Foods
When it's time to start solid foods, you can choose to be greener with your baby.
Stay away from expensive jarred baby foods and choose to make your own baby food instead. It's easy and quick to mash up soft foods, such as bananas and avocados. for your baby's first solid meal.
Or, you could try baby led weaning, which brings your child to the family table and has her participating and choosing the foods everyone is eating instead of purees and mashes.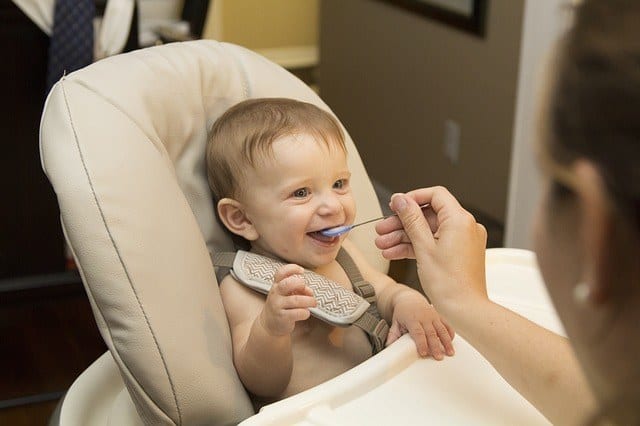 Super Baby Food by Ruth Yaron was my favorite reference when my babies were learning to eat solid food.
4. Second-hand Clothes and Toys
The amount of baby gear and other stuff a new infant needs can be overwhelming and costly. You can make it easier and cheaper for yourself by going for second-hand items whenever possible.
Clothes, toys, furniture, and other gear can be reused. Find out among your family and friends who are looking to get rid of their old baby clothes and gear. Or, look online at yard sale groups to pick up some items for a little bit of money.
In turn, make sure to reuse and recycle your baby items. Clothes can either be given away, donated to thrift stores, or sold at yard sales. You can also get creative and repurpose baby furniture into other useful items for the household.
5. Water Conservation
Water usage for a new baby is also something to watch out for if you want to be kind to the planet.
Educate yourself about water conservation practices and efforts, such as the Cadiz Water Project, and make sure you don't contribute to water waste. For example, you don't have to bathe your baby every day during those first few months. Instead, give him a bath every couple of days. This could help keep his skin supple and smooth.
If you are using cloth diapers, use an energy-saving washing machine and dryer. And line-dry the diapers, whenever possible. That way, you reap the benefits of the sun's sanitizing properties as well.
6. Green Products
The last thing to do to have an eco-friendlier experience when you have a baby is to choose products carefully. Research the best options for you and your family for your baby's skin, such as soaps, lotions, and shampoos. Choose products from responsible companies that use green practices for manufacturing. Shop for baby items made of natural materials, like cotton, linen, and bamboo. If you must use plastic, make sure it's BPA-free and recyclable.
When your new baby arrives, you can continue to practice eco-friendly habits as long as you make choices with your products and child rearing.
Follow the tips above to give your baby a great new safe start in life while helping to contribute to a healthier planet!
---
If you liked this post, submit your email address below to get new posts by email:
Disclaimer:
This website is not a substitute for consultation with your health care giver. You should not use any of the exercises or treatments mentioned in this website, without clearance from your physician or health care provider.
Disclosure:
When I mention products, you must assume I will receive compensation for doing so. However, I only recommend products and services I myself use or believe in and would recommend to my own sisters and mother. Nevertheless, you should perform your own due diligence before purchasing a product or service mentioned in this website.